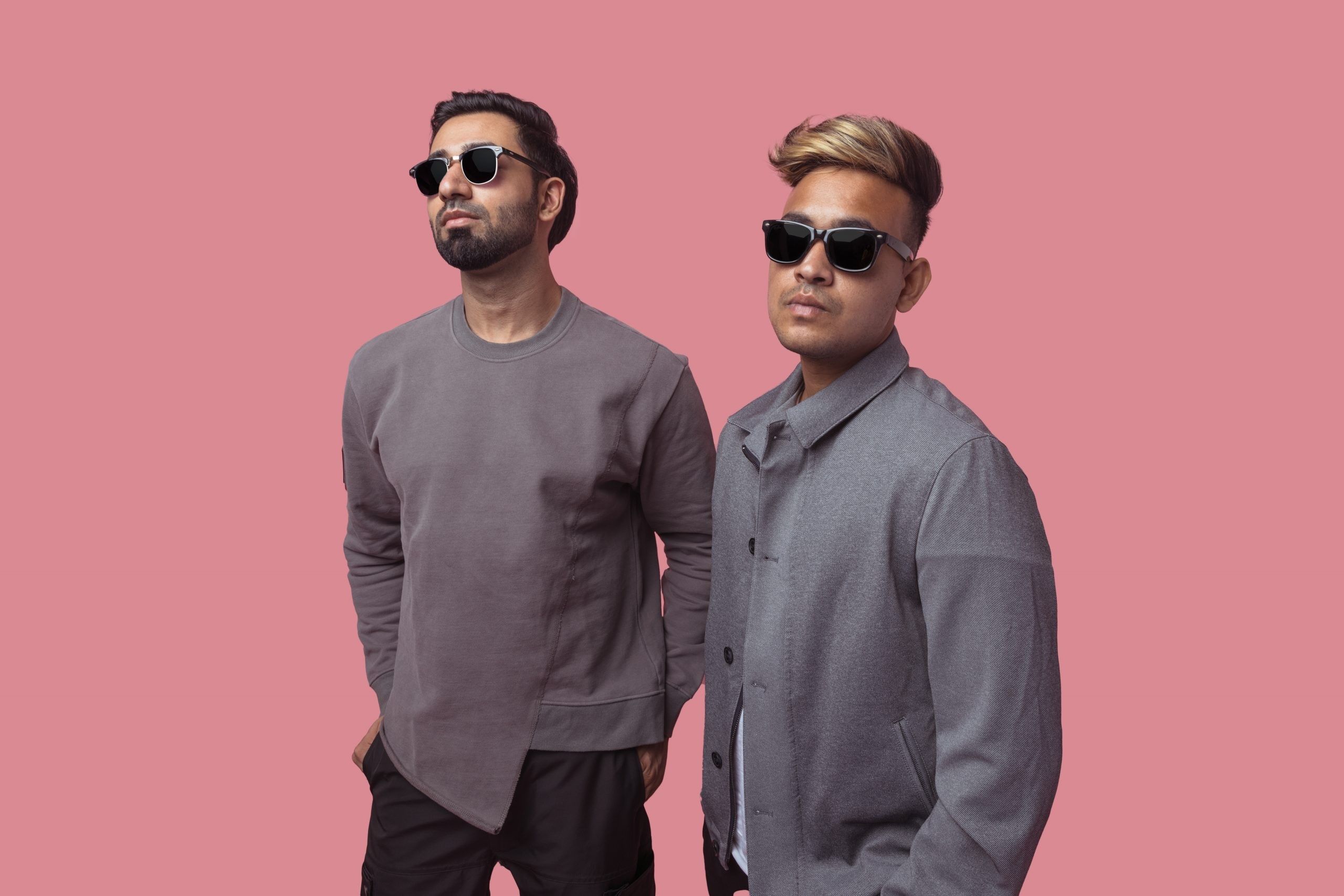 EXPERIMENTAL: Paurush Kumar (Rusha) and Aman Khare (Blizza) (right)
THE INDIAN DUO DISCUSS THEIR NEW EP AND UNIQUE MUSIC
by ASJAD NAZIR
DELHI-BASED duo Rusha and Blizza have been adding an exciting new dimension to Indian music with superb songs that have mixed up global influences in marvellous new ways.
They followed up their fabulous first EP Mudra with recent release Sutra, which was created during lockdown. The new EP has terrific
tracks Kaise, Barse, Hawa, Hoye, Kaal, and Anth, which all have a melting pot of influences that offer up something new in the musical landscape.
With more tracks on the way, they are offering up new ways of creating
songs and are a duo to look out for. Eastern Eye caught up with Paurush Kumar (Rusha) and Aman Khare (Blizza) to find out more about their EP, unique brand of music and interesting future plans.
What first connected you to music?
Rusha: I first caught the music bug when as a child I used to listen to songs on my father's Walkman, which included artists like Prince, Madonna, Lionel Richie and Michael Jackson. I joined a music academy when I was 13 years old to learn instruments, and music theory after school. Blizza: For me, it was getting my first dubstep music CD from a friend at the age of 15. I started exploring electronic sounds from across the globe.
How did you and Blizza end up working together on music?
Rusha: We both met in 2010 at a gym, where we were known to be musically inclined. So, the gym owner used to pass us the aux whenever we trained at the gym. I was very impressed with Blizza's selection of music and that's how we first discussed making something together.
How did you both find your unique sound?
Blizza: It has just been consistent focus and coordination of over a decade that resulted in us finally being able to make sounds that we could call our own.
Tell us about your latest EP Sutra?
Rusha: Sutra further builds upon the fusion sound design that we had created with Mudra. We tried to incorporate more experimental and electronic elements to Sutra.
How would you describe the songs on your new EP?
Blizza: The songs came very naturally to us and we really did let our emotions guide us. We then leaned more into frantic experimental sounds as the EP progressed.
Who are you hoping connects with this EP?
Rusha: With Sutra, we seek to reach the right listeners for our sounds. We put a lot of effort into the visuals, videos and concept. We hope everyone is satisfied with the overall package and hope our listeners approve.
How does this EP compare to the previous material that you have done?
Blizza: With every release, we get a better understanding of what kind of sounds work for our audience. We tried to incorporate some of our best ideas from our previous works while trying some new things. We will learn from observing what works in Sutra and incorporating them in future releases.
You have both created a number of songs, but which is your own personal favourite?
Blizza: For me, it has to be Kaal from Sutra.
Rusha: That's a tough one. Mine would be Kaise from Sutra.
Do you both have a set process of working, and how do you get around creative differences in your music?
Blizza: Initially, there were a few creative differences, but now we have very few and see any disagreements as constructive and try to incorporate changes suggested by each other.
What can we expect from you both in 2021?
Rusha: We have two singles and an album already complete. A few videos have been shot and many more are in the works. We are also working on our next EP. Some of our new music is a complete departure to our previous work. We just want to stay true to our day one motto, 'courage to the experimental'.
What is it that inspires you musically?
Blizza: Just continuously evolving our music and creating what keeps us positive, while others also appreciate it.
Rusha: Sutra was made during these tough times when almost everyone is going through an emotional rollercoaster. We have been lucky to be able to sustain ourselves and stay safe, but many others have had their world turned upside down. That is why we wanted to give in to our vulnerability while hoping for a better future. We tried to present these emotions through Sutra.
Who would you both love to work with?
Blizza: That's an endless list. We can start with Mr Carmack, Sophie, Hudson Mohawke, The Code, The Internet, Kanye West, OPN, Frank Ocean, to name a few.
Why should we all pick up your EP Sutra?
Rusha: To support and give courage to the experimental.
Visit Instagram: @rushaandblizza