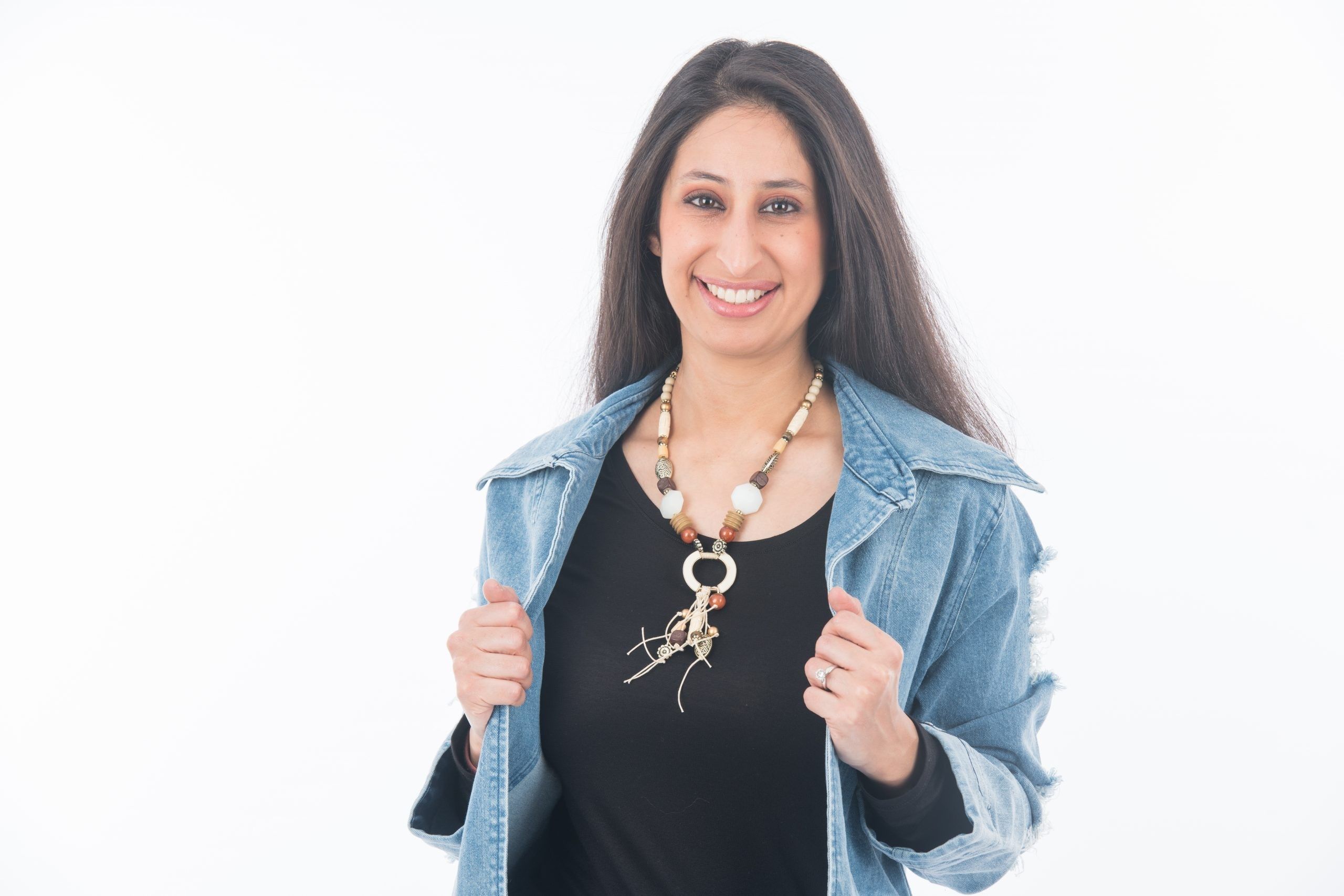 MAKING CHOICES: Anushka Arora
THE RADIO HOST TACKLES SOME TRICKY SITUATIONS
by Asjad Nazir
POPULAR radio presenter Anushka Arora regularly entertains listeners with hit songs, lively chat and celebrity interviews.
The Sunrise Radio host is also used to taking on impossible challenges and recently set a record by being continuously on air for 36 hours straight. Throughout all this, she has asked all the questions and that is why Eastern Eye decided to turn the tables by putting her in the hot seat in some difficult scenarios.
Anushka took on the challenge and lit up her replies with infectious laughter.
You go to interview an A-list superstar and notice that his trouser flies are undone. Do you tell him?
(Laughs) This is so awkward. Seeing as nowadays everything has to go through managers, I would firstly and very professionally get the interview done. Then I would tell the manager afterwards. If it's a video interview, I would pull the manager aside and tell them to dress their child properly next time.
A close friend is totally unreliable and asks for a job reference. Do you give them one?
Well, I would first have to tell my friend to straighten up and only then give them a job reference. They must learn.
Your partner receives a super expensive gift and thinks that it is from you. Do you take the credit for it?
I am such an amazing wife, so I wouldn't ever be able to do that to my husband. (Laughs) Although I would proceed to ask my husband if I could keep his gift.
You have just watched the worst Bollywood film at a premiere and the lead stars ask what you thought straight after. What do you say?
To be honest, this has happened to me before. I would take the smarter route and potentially praise the performance of the actor rather than criticise the awful movie we just saw.
You have brought in expensive dishes from a restaurant, which you then serve at a dinner party. Everyone loves the food and compliments you on your amazing cooking. Do you accept the praise?
I think everyone knows I don't take a keen interest in cooking, so I would happily tell everyone it's from a restaurant. (Laughs) It would be so obvious if I took the credit for the food. I am more concerned about people having a good time at my dinner party.
You are at a hen night and see your close friend's partner is secretly working as a stripper. Do you tell her?
Yes, I am a huge advocate of women supporting women, so I would definitely tell my friend and also confront the partner to understand why he resorted to doing this.
Your single close friend, who is not dating material, wants to be fixed with up with your work colleague. What do you do?
I would let her go because how will she learn how to date otherwise? You learn from experience, right?
You come across your partner's diary. Do you look inside it?
(Laughs) If I ever come across my partner's anything I will look into it. Jokes aside, I'll try not to at first, but the temptation to look inside is always there.
You are mistaken for a famous Bollywood actress and given an all-expenses-paid trip to the Oscars. Do you accept?
Erm, no. I would take it as a joke first but would want to go on my own merit. I would tell the Oscars team they mistook me and should give me an all-expenses trip anyway.
You are drunk and remember that you have older relatives coming over. What do you do?
Thankfully I don't drink, but if I did and that happened, I would call them up and say I'm down with a migraine, hence the plan is cancelled.
You are invited to the penthouse of a very famous star and accidentally spill orange juice on their expensive couch. Do you cover the stain up with a cushion or confess?
Well, I would want to be invited there again so I would have to cover it up in the hope that this famous star doesn't have CCTV cameras around the house.
A youngster in the family who idolises you asks for help on their homework, but it's too difficult for you. What do you do?
These young ones are too smart. I would definitely agree to help in order to spend time with the youngster, but at the end of the day, Google would be my best friend.
A friend buys you a lottery ticket and you secretly win £5,000. Do
you share any of the winnings with them?
I'm really not a greedy type of person, but if I brought them a nice gift instead, would that work?
A relative asks you to play a song on your radio show they have worked hard on and spent a lot of money making, but you think it's awful. What do you do?
I would definitely be up for helping and would have a listen, but I'm sorry, the truth is the truth, and I cannot risk losing the quality of my show. The truth hurts but has to be told. They would get over it eventually.
It is hours before your friend's wedding and you have just discovered definitive proof that her soon-to-be-husband is having an affair. What do you do?
Oh my gosh, I would have to tell her. There's no two ways about it or looking back. As a friend, it's my duty to tell her with solid evidence, then moving forward, it's up to her to decide what she would want to do.
You are about to do a hotly anticipated interview with a famous person on your show and realise they are high or drunk just before you go on air. What do you do?
The question itself makes me so angry. I cannot respect an artist or listener who doesn't respect me or my work. At the end of the day, it works both ways with a journalist-celebrity relationship – we both need each other, but turning up drunk? I would mention it on air and cancel it.
Your favourite elder in the family gifts you an awful outfit and expects you to wear it at a big family function. What do you do?
I would say it didn't fit properly and tuck it away nicely out of sight in my cupboard.
You are taken to an all-expenses-paid, super exclusive restaurant by a friend but hated the food. How do you react when they ask if you liked it?
This happens and it's very normal. I would thank them for treating me and taking the effort to organise it, but I would have to tell the truth about what I thought. After all, they didn't make the food. It was just a bad restaurant choice, right?
www.anushkaarora.com