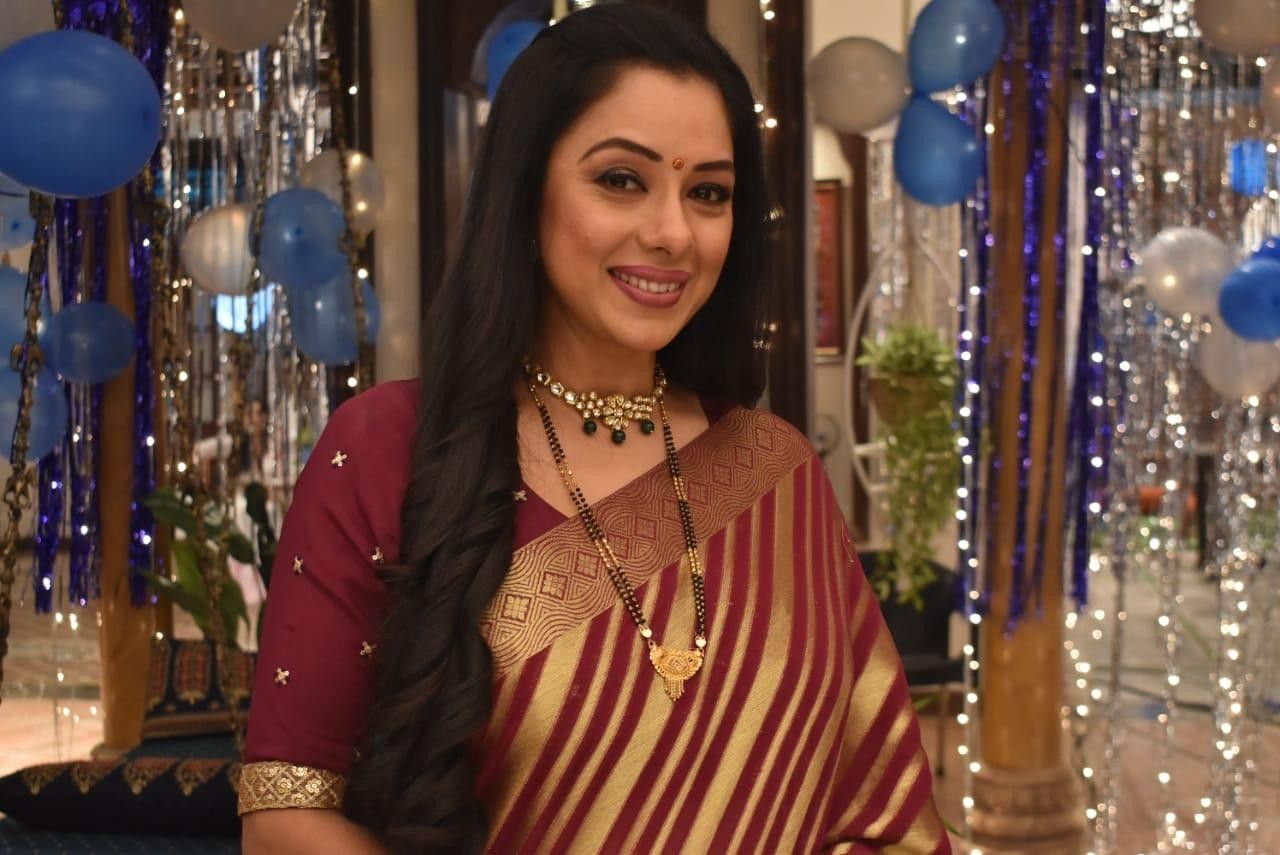 CHOSEN ONE: Rupali Ganguly
ANUPAMAA LEAD STAR RUPALI GANGULY TALKS ABOUT HER SUCCESSFUL SMALL SCREEN RETURN
by ASJAD NAZIR
THE biggest Indian TV success story of 2020 was drama serial Anupamaa and at the heart of its popularity has been acclaimed actress Rupali Ganguly.
Her stunning portrayal of the title character is continuing to pull in large audiences and adds to her impressive list of achievements, which has included popular drama serials like Sanjivani, Kahaani Ghar Ghar Kii and the iconic Sarabhai vs Sarabhai. Having started off as a child actor and been a frontline lead star for two decades, she has entertained many millions and formed a bond that has become even stronger with Star Plus ratings winner Anupamaa.
Eastern Eye caught up TV icon Rupali Ganguly to discuss her remarkable journey, Anupamaa success, working during Covid-19 and coping with a demanding schedule.
How do you look back on your amazing acting journey?
I feel blessed and very proud of the journey. I feel like I am a chosen one because of the many exemplary roles and range of characters I have got.
You started off as a child actor in your director father Anil Ganguly's films, working with legends like Mithun Chakraborty and Rakhee. How do you remember those early days?
I started as a four or five-year-old in one of my father's movies where I played Dina Pathak's child and when I was seven there was his film Saaheb, where I run into the house and touch Rakhee aunt's feet. That was the privileged beginning. At 13, I did my first Bengali film Balidan, which was a super hit, where I played the heroine. But daddy always said I had to finish my studies and then become a heroine. Because once you have done acting, it's like a virus you cannot get rid of.
You have been part of some legendary serials, but which is
closest to your heart?
All the serials have been very special. I have been very blessed to be able to play a phenomenal range of characters, but two stand out. The first is Monisha from Sarabhai vs Sarabhai. That show  stopped shooting 13-14 years ago, but still lives on and is much talked about. The second very special show has taught me my self-worth and range as an actor. It has given me the opportunity to showcase the terrific Bengali genes my
father gave me and that life-changing show is Anupamaa. These shows will always remain close to my heart. I will take Monisha Sarabhai and Anupamaa Shah to my grave.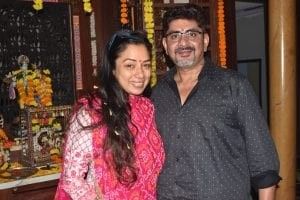 Who has been your most memorable co-star?
I always call myself a chosen one by god. I have worked with phenomenal actors, film stars and people. But the Sarabhai family, especially Satish (Shah) Ji and Ratna (Pathak) Ji are the closest. Working
with them was such a great learning experience and my biggest high point. They are family and my most favourite co-stars. I love them and can do anything for them. I love my Sarabhai family and have started falling in love with my Anupamaa family too.
How much does it mean that Sarabhai vs Sarabhai is still so loved?
I feel blessed I got an opportunity to do such an iconic show and a memorable character. The love we all had off-screen, translated on-screen and we still share the same love now. People have given that
love back to us. So, what you see on-screen on Sarabhai is the love
we still have for each other. People connect with that close bond. The phenomenal writing and extensive detail in direction made Sarabhai iconic. I love it when people call me Monisha or Anupamaa now.
How did you feel landing the title role in Anupamaa?
When I signed for Anupamaa, I knew the protagonist is a mother and this story is about mothers being under-appreciated. She takes everything that comes her way with a smile and doesn't let any negativity affect her. So, I was dying to portray this role and didn't know the show would be called Anupamaa till the promo came out, which was an added bonus.
Did you feel pressure playing the title role?
I didn't feel pressure as the character is so well-written. The only pressure was to deliver because this was a golden opportunity and blessing to get such a fabulous comeback. So, I put a lot of pressure on myself and worked hard. I am constantly learning from the new breed of actors on set. I still feel like a newcomer as television has become so different to what we did 20 years ago. It's become more comfortable. The only pressure is to play Anupamaa well. It is all worth it because of the love that I am getting now, so I have no reason to see any negatives.
Tell us about Anupamaa?
Anupamaa is about every mother who invests all her time in her family. Her life is her family and it's all about loving them. Most of us have grown up in families like this, where the fathers went out and our mothers took care of the home. Anupamaa is about every woman in India and abroad because they do so much for their home and family, yet are mostly under-appreciated. So Anupamaa is every woman who loves her family. The homemaker, who doesn't get a day off.
Tell us more about your character…
She started off as a docile character who tolerates everything to maintain calm in her family, including verbal abuse from her husband. She takes a lot of blame and gets taken for granted. Then her trust is broken by getting to know about her husband's affair and it changes her completely. That woman who used to keep quiet and was fearful speaks up, and takes a stand. She is now on a path to becoming a strong woman. Anupamaa is a real woman, who is changing slowly and steadily with baby steps. She is becoming stronger and learning to be independent. I feel so proud to be portraying Anupamaa.
What is the biggest challenge of playing this role?
There is no challenge as far as the character or acting is concerned because the writers and (producer) Rajan (Shahi) are so clear with their vision and the directors are phenomenally bang on. The only thing that I take care of is not to look ostentatious with the makeup and everything. So, most of the times on the episodes you see me without makeup, which is like a big step in Indian television. I just tried to keep the performance natural, so that it never looks like a character and comes across as real. The only real challenge is being 40 plus and having the guts to go in front of the camera without makeup.
How much does the success of Anupamaa mean to you?
The success means a lot and I can't express it in a few words. I started at the age of five, so it's been a 38-year career filled with hard work. Anupamaa's success has finally given me my due as an actor. I always put my heart and soul into every role, and finally that effort is being fully appreciated. I cannot thank or bless Rajan Shahi enough for giving me this opportunity and Star Plus, which has been my luckiest channel. It has been path-breaking and given me recognition. Coming back after seven years, after motherhood, and getting recognised as a good actor, means so much and makes my entire family feel so proud. It validates all the efforts I, along with my family and spouse, have put in. My father would have been proud of this show because it is the kind he would have made. The success makes me feel overwhelmed, validated, grateful, blessed and happy. The biggest emotion that I am feeling right now is gratitude.
Why do you think Anupamaa is so popular?
I think it strikes a chord with audiences because you find a homemaker like Anupamaa in every home. Not only Anupamaa, but you will find almost every character of this show like Baa, Bapuji, Jhilmil, Toshu, Pakhi, Samar, Vanraj and even Kavya in your vicinity. It is the kind of people who you see in normal life. They are real people, with relatable emotions. So, it strikes a chord with people as they strongly identify with the emotions in the show. I am sure most women go through all the emotions Anupamaa goes through.
How has it been shooting during the time of Covid-19?
Honestly, it's been very stressful, but our producer takes care of the unit. Our temperature and oxygen levels are checked constantly. It's just that unspoken bond in the unit that we take care of each other and ourselves too. We are blessed to have such fabulous people, technicians and every crew member, who wear masks throughout the day, which is not easy. There is kind of a safe bubble on set, but I do get scared about carrying the virus home because my mother-in-law is a 88-year-old, and my 70-plus mother regularly visits me, and I have a small child. So, the stress for the safety of one's family is there. I am sure that happens with every actor, working right now.
What can we expect in Anupamaa going ahead?
One can expect lots of high drama, entertainment and twists, which will keep you hooked to the show. So, keep watching Anupamaa.
How do you cope with such a demanding work schedule?
Yes, it can get hectic and tiring, but when your home is stress-free, you don't feel the stress of work. I am blessed to have a fabulous husband who takes care of the home, my son and everything. The kind of sacrifice he makes is above anything I can ask for. He works from home so I can go outside to work. And it's a blessing to have a man who gives his woman wings to fly. I am able to cope because he is coping with everything at home. He is definitely a blessing.
What is the best advice you have ever been given?
My life is a model of all the advice given by my father. My work ethics have been inculcated by him. My father always said, "the biggest emotion we should feel is gratitude. If we feel it forever, we will never look back." I feel grateful to, first and foremost, get this wonderful opportunity to finally prove myself as an actor. When you get something good in life, you keep feeling grateful. I learned the importance of gratitude and kindness from my father. Now, I am learning so much from my wonderful husband.
Do you have a dream role?
God has made every character of mine into a dream role, including the one I am doing now, and I am grateful for that. My character Monisha was like a dream come true and now I am doing Anupamaa, which is every actor's dream. I have received so many messages from friends, colleagues and fellow actors telling me I am doing a wonderful job, so I am in a blessed space right now.
What are your other passions away from work?
My family is my biggest strength and passion. There is nothing beyond my family and I have always been around them. So, my passion away from work would be spending maximum time with my family. Also, I am an avid animal lover and taking care of stray dogs is kind of a passion. I am hoping that my dream of making an animal shelter will be fulfilled soon.