By Asjad Nazir
MANIKA KAUR ON SPIRITUALITY AND HER NEW ALBUM EK
DEVOTIONAL music has delighted different gen­erations across the centuries and remains a gen­re that most enriches the soul.
One of the world's leading exponents of Sikh spiritual sounds is acclaimed kirtan artist Manika Kaur and her new album Ek, released this Vaisakhi, is perhaps her best work yet.
She has used some of the rarest instruments played by world class artists for a collection of deeply emotional and musically rich numbers that will form a soul connection with listeners, includ­ing those who don't follow the Sikh faith.
Eastern Eye caught up with singer Manika Kaur to discuss her new album Ek, spirituality and musical inspirations.
What first connected you to spiritual music?
My father is a great storyteller, so I was fortunate to grow up listening to him relay stories of the Sikh gurus and countless noble hearted souls who walked this earth. As a family, we sat together, jam­ming out on tabla and harmonium, so it is there that my love for music really began. The kirtans I sing are passages contained within the Sikh holy scriptures that I refer to as love letters to God. I compose melodies to these passages to share with those who seek it.
There are so many who have connected with your kirtan music?
For many of us, happiness is temporary which usually indicates that we are living fearfully. By clinging to the false-self and maintaining an outward focus our inner essence suffers and this will cause havoc within and can at times be detrimental to ourselves and this planet. I hope that my albums help others connect to their di­vine essence and the posi­tive ripple effect that it brings into our world.
Tell us about your new album Ek?
Kirtan can be a beautiful vehicle to journey within so when I created this album, I focused on simple melodies in which I could annunciate the words clearly in a way that vibrates through the cells of the body. Through soothing melodies accompanied by beautiful instrumentation, I hope to remind us all of just what we truly are – stardust, light, unparalleled, spectacular beauty. With this album, I have pushed the boundaries further, finding new frequencies to send into the world that will hopefully resonate with those who are willing to journey within.
Each album track features diverse instruments, including sarangi, shehnai, dilruba, saxophone, guitar and cello. What was it like collaborating with so many world class musicians?
It was intentional to ensure that the music honours the sacred words being sung. Discovering these musicians who are at one (Ek) with their instru­ment creates a powerful and mesmerising sound. It's been a brilliant experience for me to work with Jyotsna Shrikanth, Suhail Yusuf Khan, Soumik Dat­ta, Kaviraj Singh Dhadialla plus many more.
Who are you hoping connects with the album?
I always like to remind myself of the 'why' I am writing or composing. I then set an intention and put that out into the world and allow the sound cur­rent to blossom forth. I believe it will reach those who seek it or need it.
Do you have a favourite on the album?
Currently, I'm very excited about a track titled Deh Siva which is about battling the ego. I've written a script and am looking forward to creating a short and powerful film for the track.
Why did you decide to call it Ek?
Ek meaning 'one' is about combating the false illu­sion of separation. In 'oneness' there is freedom and the opportunity to realise that we are each sim­ply a DNA molecule within the body of humanity, and in recognising this truth, we begin to tran­scend and connect to our divine self.
Many find comfort in your music, but how much does it help you?
My experience of God truly began when I started to acknowledge my ego that was so carefully concealed within the shadows of my mind. Kirtan has been vi­tal on this expedition. Singing and chanting these ancient love letters to God opens us up to our inner essence and this in turn helps combat the false self (ego). During the most turbulent times in my life, kirtan was my shelter, in seeing myself more clearly. Kirtan has al­lowed me to be more compassionate and at ease.
What is the greatest gift that spiritual music has given you?
Spiritual music is the gift that keeps on giving. Apart from working with brilliant artists and musicians such as Youth, Talvin Singh, Oskar Vizan, James Yorkston, Jesse Bannister, Kirpal Singh Panesar, Johnny Kalsi and the Singh Twins to create sounds and stories that heal and inspire, I have also had the opportunity to perform in front of large crowds in unique locations.
Your music has led to a lot of charitable work…
Starting my charity Kirtan for Causes, a non–profit organisation that donates all profits towards uplift­ing communities has provided me with a focus that is truly humbling. We educate impoverished chil­dren, build homes and try to meet the needs of communities living in poverty. I've also had the opportunity to help or fund other projects that aim to make the world better such as Binti, Rainbow Schools, Khalsa Fostering, Sikh Toy Appeal and Sikh Legal Aid.
What is the biggest life lessons lockdown has taught you?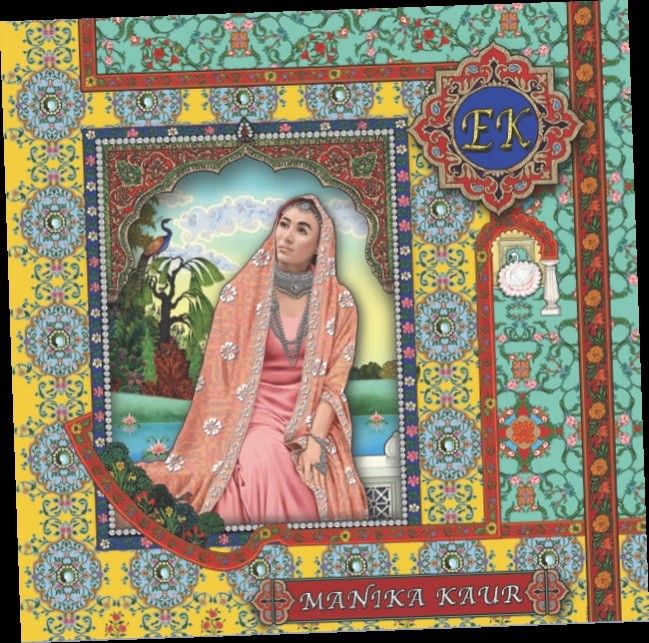 I'm a spiritual person, so I sing and pray with my children daily. During lockdown, I realised just how important it is to teach our children to meditate and connect within. I predict there will be more global lockdowns in their future. Nothing is permanent but there is this world within each of us; our kids and future generations will need this.
What are you hopes and prayers this Vaisakhi?
My hope and prayers are with the farmers who are peacefully protesting in India. May they have strength and be safe and may this issue be resolved with a positive and fair outcome.
What inspires you?
Life inspires me, stories of the Sikh gurus, the farm­ers who have been sleeping for over a 100 days on the streets of Delhi. People overcoming hardships, people fighting injustices and children experiencing pure joy from the simplest things. Each of my family members in their own way also inspire me. My own experiences; pain, loss, growth, love. On this spirit­ual journey I have learnt to let life flow through me and see God's light in everything, even the things I can't understand, and ultimately, this has led to a more blissful me.
Why should we pick up the new album Ek?
If you're into soothing, spiritual, uplifting music that calms the mind then this may resonate with you. Kirtan is non-de­nominational, it is the language of the soul and Sikhism is not a religion – it is a path for those who wish to connect to their divine essence and merge into Ek (oneness). This album will hopefully con­nect us to the purest parts of our self and illuminate our lives.
Visit www.manikamusic.com; Twitter: @manikakaur, Facebook: Manika Kaur and Instagram: manika.kaur.