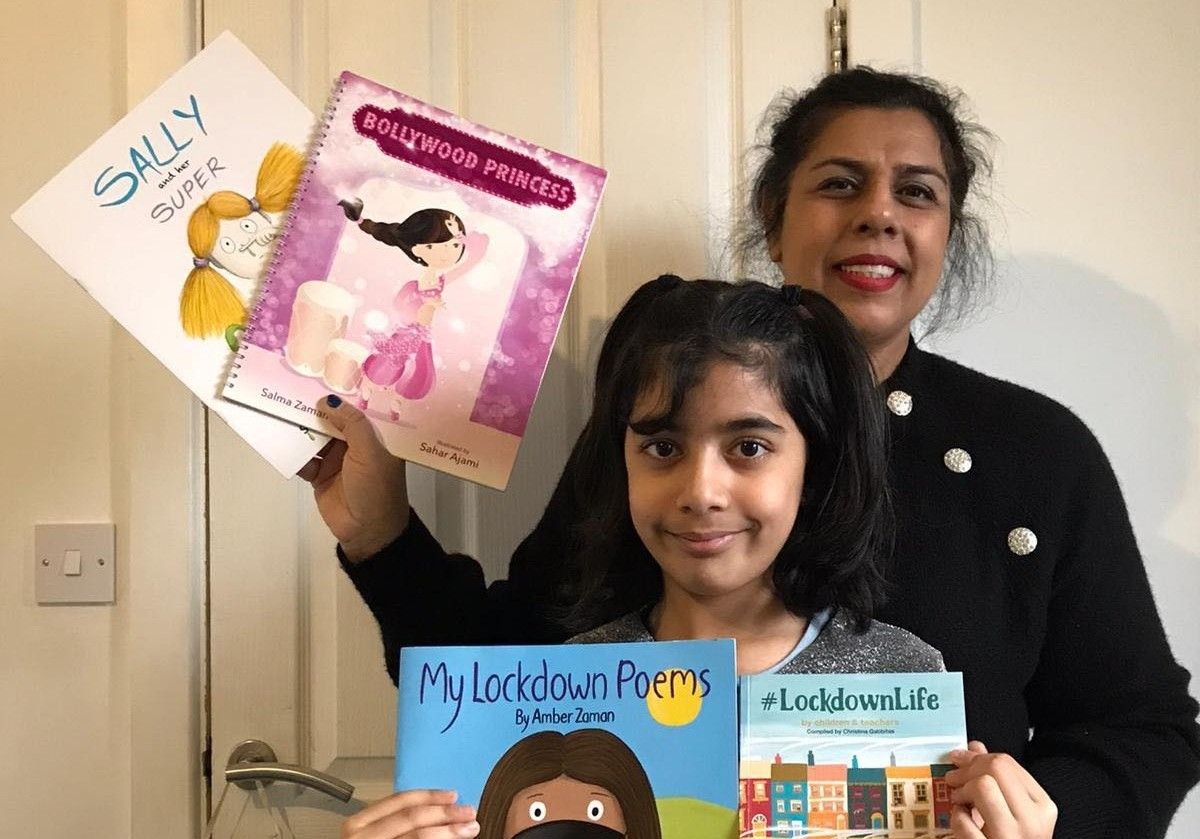 Nine-year-old Amber Zaman and mother Salma say themes of diversity in their books spark excitement among children
by LAUREN CODLING
DOES creativity run in families? Taking one look at mother-and-daughter writing duo Salma and Amber Zaman, it would be hard to argue otherwise.
Nine-year-old Amber wrote her first book My Lockdown Poems during lockdown. The collection of poems explores a number of 2020 experiences, including shortages of hand sanitiser, schools closing down and Zoom calls. Her mother Salma is also a published author, having written four successful children's books.
Although their stories may differ, their message of inclusivity does not. Their books feature characters from all kinds of backgrounds,  including disabled characters and children with autism.
A lack of representation in literature can have a "major impact" on children, Salma told Eastern Eye. "It is so important to feel like you fit in," she explained. "I have no problems with reading stories with white characters, but it's like…where am I? Representation (in literature) is vital for children."
Sharing her mother's views, Amber is also conscious of representation and inclusivity within her work. The schoolgirl said she included a diverse set of characters in her book so readers from all backgrounds could relate and identify with them. "I thought it was important that I showed brown faces as well black and white characters in my book as this is our future and we are in this pandemic together, no matter what colour, age, gender or disability," Amber told Eastern Eye. "It is very important for children to see different characters being represented in books, characters that look like you and me."
While participating in a read-along session at a school in Birmingham, Salma witnessed the happiness of children who discovered fictional characters they could relate to. Her books feature characters with Asian-sounding names, much to the delight of the children. "I would read about characters called Farrah and Zahraa and the kids were getting so excited, telling me they had a sister or cousin with the same name," she recalled. "We need to think out of the box, think bigger and wider and ensure we put strategies in place so we can be as inclusive as we can."
Professionally, Salma is a qualified independent practitioner trained in south Asian dance with over 20 years of experience. She is the founder of Salma's Bollywood Academy, which delivers south Asian dance classes to children and adults.
Her journey as an author started in 2012. Her first book Bollywood Princess was inspired by her first daughter Maleehah, who sadly passed away when she was 18 months old. "I always wanted to write, but I didn't know what I wanted to write," Salma explained. "When we lost our daughter, I decided my book needed to be about a little girl who dreams about becoming a Bollywood princess. Since then, I've never looked back."
She has had three additional children's books published – HELP! I Can't Dance Without My Bhangra Pants, Sally and Her Super Snot and Greedy Gertie. She is also working on her first adult book, which is based on real-life events.
Amber admitted her book was inspired by her mother, after hearing her stories over the years. She also wanted to write the book to "help her family and friends", she said. "I feel so proud of what Amber has achieved," Salma smiled. "She is such a character – you can give her anything and she will make a meal out of it. Her enthusiasm and her bubbly personality totally shine through."
However, it is not just Amber who has a passion for writing. Salma's other daughters have showed interest in becoming authors too. Six year-old Lailah has already expressed keenness to write her own book about penguins. "I've got two other daughters, who are 18 and 16, and they've both said that they want to write too," Salma laughed. "Maybe  we could all write and become a family of authors."