by LAUREN CODLING
SCOTTISH Labour leader Anas Sarwar has revealed that racist abuse targeting him has increased since he was elected head of his party, but said he no longer pays attention to it.
In an exclusive interview on Monday (26) with Eastern Eye, the Asian politician also said that "organisations needed to confront the prejudices they may not see but that do exist".
He acknowledged the UK was a "very outward-looking and progressive country at times", but there had been "division in the last 10 years".
The Glasgow-born politician is currently campaigning for the Scottish parliament elections, with the result of the vote due to be announced on May 6. He is pitted against the Scottish National Party's (SNP) Nicola Sturgeon; Scottish Conservative candidate Douglas Ross; the Scottish Green Party's co-leaders Lorna Slater and Patrick Harvie; and Liberal Democrat Willie Rennie.
Sarwar, who is of Pakistani heritage, made history in February after he was elected head of the Scottish Labour party, becoming the first British Asian to lead a UK political party.
Although he acknowledged the significance of the result, Sarwar said society should be not complacent about racial inequality. "We can't fall into the trap of thinking the fight for equality is over – far from it," he said. "We still have huge inequalities in our society, so how do we confront them? It can't just be words, there has to be action."
Sarwar has been open about the racist abuse he has faced since entering politics. In a 2017 interview with Eastern Eye, he revealed he faced regular abuse on social media and experienced Islamophobia on a "daily basis".
Asked if the abuse had worsened since he became Labour leader, Sarwar admitted it had, but he tended not to read posts on Twitter any more.
"I used to have a really bad habit of seeing what my replies to my tweets were, or what people were saying about me," the 38-year-old said. "One of the joys of being in the middle of a campaign is it is so non-stop and relentless that I don't get a chance to go on social media and check. It's quite liberating."
In March, a report by the Commission on Race and Ethnic Disparities (CRED) said the UK "should be regarded as a model for other white majority countries" and denied institutional racism existed.
Asked if he agreed, Sarwar said he did not believe there was a "single institution, organisation or political party which is immune to all forms of prejudice". "I think anyone who suggests otherwise is living in cloud cuckoo land," Sarwar said. "That is not to say we are a prejudiced nation – I don't believe we are, I think we are a very outward looking and progressive country at times.
"But I think some of that has been undermined by the division of the last 10 years. We shouldn't have Scottish or British exceptionalism – we aren't immune, and every organisation needs to be taking steps to confront the prejudices they may not see, but that do exist."
However, Sarwar recalled that his first experience of racism within politics did not start with him. His father, Mohammad Sarwar, served as a Labour MP for Glasgow Central from 1997 to 2010, making him the first Muslim to sit in the UK parliament. His father's experiences with racism, Sarwar said, "put him off" being in politics.
"When your father's aspiring to be Britain's first Muslim MP, the first ethnic minority MP from Scotland, there was prejudice that came along with it, and it was tough," the father-of-three said. "If anything, that put me off politics. It didn't cause me to go towards it."
Sarwar revealed that people often assumed it was his father's influence which spurred him to pursue a career in politics, but it was, in fact, his mother who had inspired his career choice. "My mother has never been a politician or stood for elections, but she is the best politician because she is value driven," he explained. "She is outcome driven and always making sure our feet are firmly on the ground."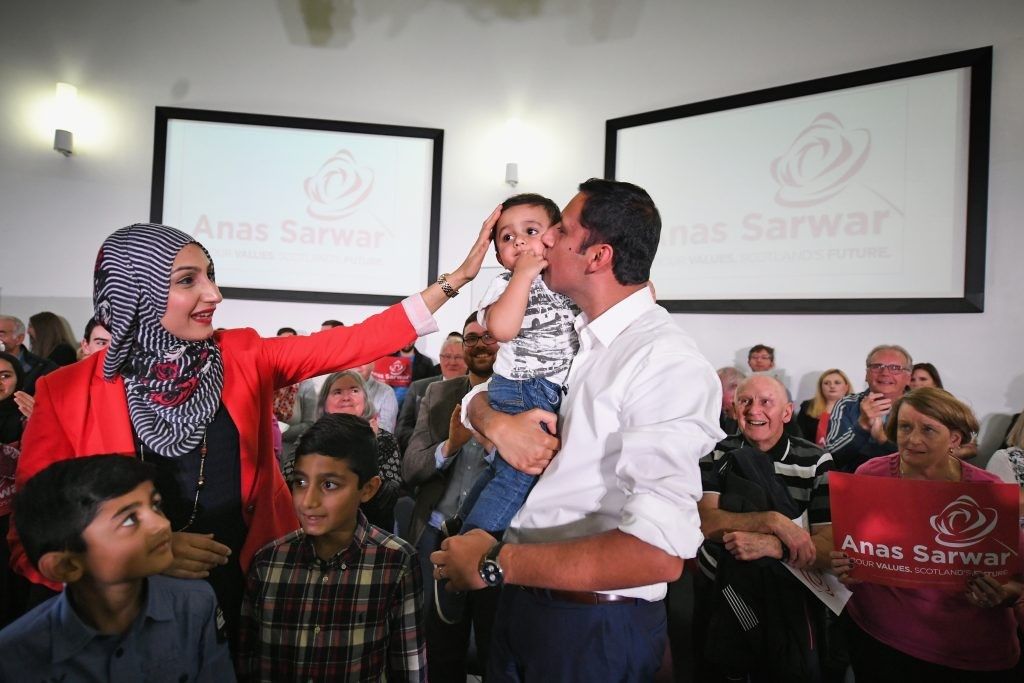 Since Sarwar took charge of the party, public approval has surged. A recent You-Gov survey showed the proportion of voters who believe he is doing a good job has risen to 39 per cent from 18 per cent since the beginning of March.
Despite his popularity at the polls, Sarwar has been open about his chances of becoming first minister. The Scottish Labour party's appeal has declined over the last two decades, something which he acknowledges. In the 2015 general election, the party experienced one of its worst defeats ever when it lost 40 of its 41 seats to the SNP.
Nevertheless, Sarwar is determined to see his party make a comeback. "I'm not coming into this pretending that in the space of weeks I'm  going to be able to overturn 20 years of decline in Scotland," he said. "I don't pretend to be Superman, but what I want to demonstrate is we are back in the bench, we are relevant to people's lives and we are on a journey of change. And not just change for its own sake, in terms of as a political party, but being able to change the country we all love."
During his campaign, Sarwar has emphasised he does not support a second referendum for Scottish independence. Instead, he believes efforts should be put into Covid recovery. The Scottish Labour party's manifesto, released last week, put forward a fivepoint plan to help the country recover from the pandemic. It centred on jobs, the NHS, education, climate, and the community.
Was he concerned his stance on a second referendum could lose him support from Scottish voters? "I'll be honest – I don't support independence and I don't support a referendum. If I thought they would help further the values which I believe it, I would support it, but it does not," he said. "I refuse to only speak to or only attempt to have a recovery plan which works for the half of the country that agree with me on the constitution."
Sarwar added: "Covid didn't choose between yes, no, leave and remain, and neither will the aftermath. So, let us try another programme which works for everyone across our country."
He said the idea of a referendum has divided Scotland, as much as Brexit split the rest of Britain in recent years. He is keen to move past the "us versus them" narrative, stating that people needed to remember the "ability to disagree, but not dislike".
"Just because we don't agree does not mean they are the enemy," he said. "That kind of politics doesn't help anybody."