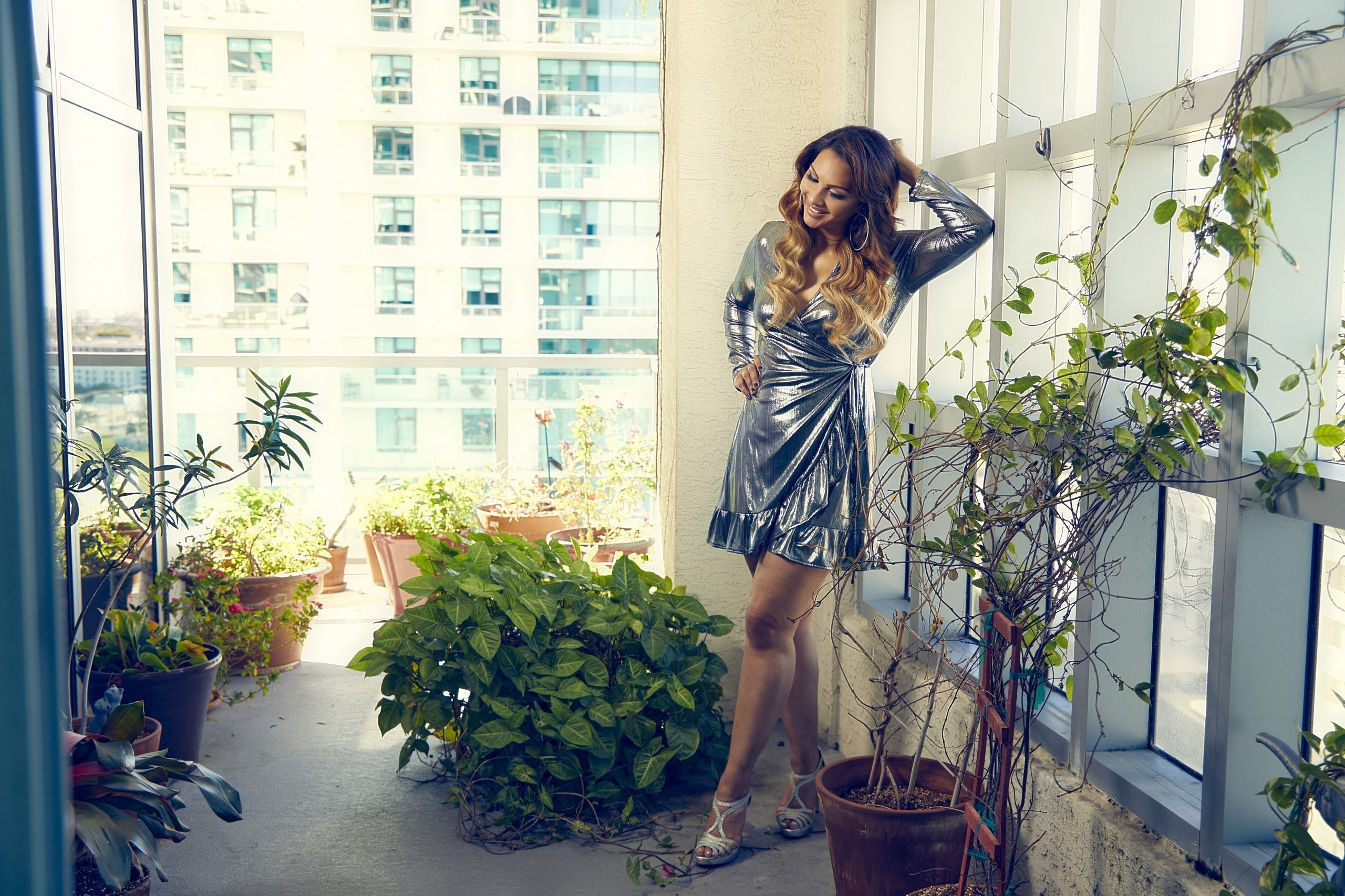 GIVING BACK: Somy Ali
WHY BOLLYWOOD ACTRESS SOMY ALI SWAPPED FILMS FOR PHILANTHROPY
by ASJAD NAZIR
AN AMAZING journey has seen Somy Ali go from being born in Pakistan to making it big in Bollywood and dating Salman Khan, to leaving stardom behind and starting an incredible charity in Miami, which is making a huge difference.
Her No More Tears NGO has saved more than 30,000 victims of domestic abuse, catches perpetrators of heinous crimes and helps rebuild shattered lives.
The fearless actress turned activist works closely with victims, police and other campaigners to make a real difference. It is far away from the bright lights of stardom, but Somy Ali has never been happier and found her calling in helping others.
Eastern Eye caught up with her in Miami to discuss her No More Tears charity, journey, the dark side of Bollywood, own experience with sexual abuse and advice to those struggling.
How do you look back on your journey?
I have several emotions about my life experiences. In terms of my time in Hindi cinema, I have no regrets. I was a teenager living alone with no guidance. I made several mistakes and believed many untrustworthy people. Unfortunately, the guidance I had was the last person I should have listened to. However, I did things my way and chose the road less travelled. I rebelled when I was ill-treated and labelled negatively, but I am proud I did everything the way I wanted.
What are your strongest memories during your time as a Bollywood actress?
I got to travel all over India and even today, my favourite place in the whole world is Rajasthan. I also enjoyed working with Suniel (Shetty), Mithun da (Chakraborty), Sunju (Dutt) and Mr Om Puri. I enjoyed the food tremendously, which I miss, and am thankful to the 'few' who stood by me through eight years of an unhealthy relationship. I miss India and spent my formative years there – 16-24 – which is when we develop friendships, so it's quite bittersweet.
So, would you have liked to do anything differently in Bollywood?
Well, given I didn't go to India to become an actress, rather to pursue a silly teenage crush, I am not sure what I would have done differently. I would have perhaps made better personal choices. Professionally, I didn't have an interest in acting or any ambition about becoming a huge star. But, I had fun working with some awesome people and to this day, I have the utmost respect for Mithun da and Suniel. I will never forget their kindness.
Was it easy to walk away from Bollywood at such a young age?
It was the best decision I ever made. I strongly believe I should have left sooner. I was suffering a great deal personally and had I stayed one more day, it would have been extremely perilous to my emotional wellbeing and health.
A lot has been written about Bollywood being a dark place for outsiders…
That's an understatement. Outside of the few names I mentioned, I would like to add Salman's (Khan) mom's name to that list, who remains an unbelievably amazing person. I did not have great encounters with a majority of people in the industry. However, it would be unfair on my part to blame them completely, as I had no idea what I was doing either.
What do you mean?
I was super young, gullible, naïve and lacked any wise grown-up person's proper support. So, I made many mistakes. I don't have regrets because they made me who I am today. I learned from my experiences and evolved through them. The exposure to several horrible involvements at a young age showed me the harsh reality of the fact that people will take advantage of you solely because they can. Bottom line, I was duped by many, several times. I look back and realise I was a kid alone in a country with no one to help.
Are you still connected to anyone in Bollywood?
A handful of people, but after being back home in Miami for 20 years, I feel like we speak different languages, and I can't relate to them and vice versa. I am not being pompous, I just don't have much in common with them. Twenty years is a long time and people lose touch, and my life has changed significantly. My priorities have changed and I have grown tremendously thanks to my education.
What led you towards settling down in the US?
It was my home, as I had moved to India from Miami and my entire family lives here. And, after I broke up with my former boyfriend, there was no reason to stay there. I had dropped out in ninth grade, so the logical thing was to returnhome and finish my education. I drowned myself into my schooling, to catch up on years of missing high school and my college degree. Education healed my broken heart. I absorbed every textbook and my mind did a complete 180 degrees, thanks to my schooling. It taught me to question everything and form new goals. It gave me hope towards a brighter future.
What led towards you setting up your charity No More Tears?
After I finished my education in 2007, it became abundantly clear to me that the only joy I was able to obtain was through helping others escape abusive situations. Whether it is women, children and men, I wanted to help everyone that had endured various forms of sexual, verbal and physical abuse, which I experienced as a child, then a teenager up to my early twenties. No More Tears was born in 2007 and since its inception, we have rescued over 30,000 women, children and men.
Tell us about some of the work you do with No More Tears?
Every day is different. No More Tears (NMT) is the second responder after a crime occurs. So, I go in as a victim advocate, and primarily transform a victim into a survivor. NMT provides them with a barrage of services. For example, we had a 12-year-old girl raped by her stepfather and he impregnated her. This morning, I took her to get an abortion and after that I went with police officers to rescue a victim brought to the US from India, via an arranged marriage, and put her in a safehouse. She was being physically abused for five years and finally sought help from her neighbour, who then called NMT.
How else does your NGO help survivors?
The transformation process depends on the victim and their trauma. I want them to become financially independent, so we open a bank account for each survivor with $100 and teach them how to drive. We offer them opportunities to pursue an education or obtain a skill. NMT pays for it all. We have had survivors who have become doctors, teachers, nurses and even victim advocates through NMT's programmes. It is a 24/7 job as abuse has no days off. We all volunteer our time and I don't take a salary from NMT.
Is there any one case that will always stay with you?
I will never forget the first survivor we rescued in 2008, who was brought to the US from Jordan. She wanted to pursue education, but was being physically and sexually abused, instead, for 10 years. She would hide in the bathroom and teach herself English through an Arabic/ English dictionary. We went with cops to get her out, after she had found our information in a middle eastern grocery store. She had chunks of hair missing from her scalp and was covered in bruises. In 2011, she graduated with her PhD in pharmacy, and that remains the best day of my entire life. I will never forget her happiness at her graduation ceremony and take pride in the fact that NMT was able to give her a safe, healthy and successful future. She is now a monthly donor and doing superbly well.
You have spoken about being raped as a youngster, how much has that early trauma led towards you helping others?
I would say without hesitation that every abuse I witnessed and encountered is the sole reason I gave birth to No More Tears. It has been the best therapy and I can't find a better reason to be alive than helping others in need. I took all my trauma and used it as fuel to work the hardest I've ever done, in building this organisation from the ground up to where it is today. None of that would have been possible, if it weren't for our donors. They are the real heroes!
Has running this charity helped you heal in anyway?
I don't think I can ever fully heal from the countless horribly abusive situations I have encountered. However, I feel better through my work and it gives me a sense of purpose, which as humans we all need to exist. This charity is my purpose and gets me out of bed every morning with a fire to save more lives. So, it has helped me heal, somewhat, when I transform one life at a time.
What advice would you give women in abusive relationships?
They have options and a way out. No one has a right to hurt you and make you feel small. I have been there and know that if I was able to escape it, so can you. NMT will help you from the first stage to the very end. No matter where you are in the world, we can and will help you.
What about those people struggling with mental health?
Thank you for asking this question. The stigma attached to mental health even in 2021 is completely absurd. I am so proud of Deepika Padukone for initiating a dialogue on this important issue and being vocal about her own struggles. Kudos to that beautiful young lady! I blame us and our backward societal views for not doing enough on this issue. I urge anyone who is suffering to seek help. I did and it was the best thing I could have ever done for myself. There is no shame in suffering from depression and any psychological ailments, just as there is no shame in being physically unwell and going to a doctor. Excellent therapists are out there, and help is available. So, I request people to please get any help they need.
You are devoted to saving lives now, but can you see yourself reconnecting with films?
Not in front of the camera as that was definitely not my forte, but given one of my degrees is in filmmaking, I would like to foray into directing and producing short films on domestic violence, the LGBTQ community and its struggles, as well as a film highlighting the prevalence of child abuse.
Today, what inspires you?
Individuals who use their platform to make this world a better place. I personally urge every person with clout to do something to help others. It could be any cause, but we must give back. It is such a good feeling and there are so many in dire need of help. There are so many issues to address and so much work that can be done to improve countless lives. We must use the oxygen mask for ourselves first, but not forget about others who are struggling to breathe as well.
www.nomoretearsusa.org