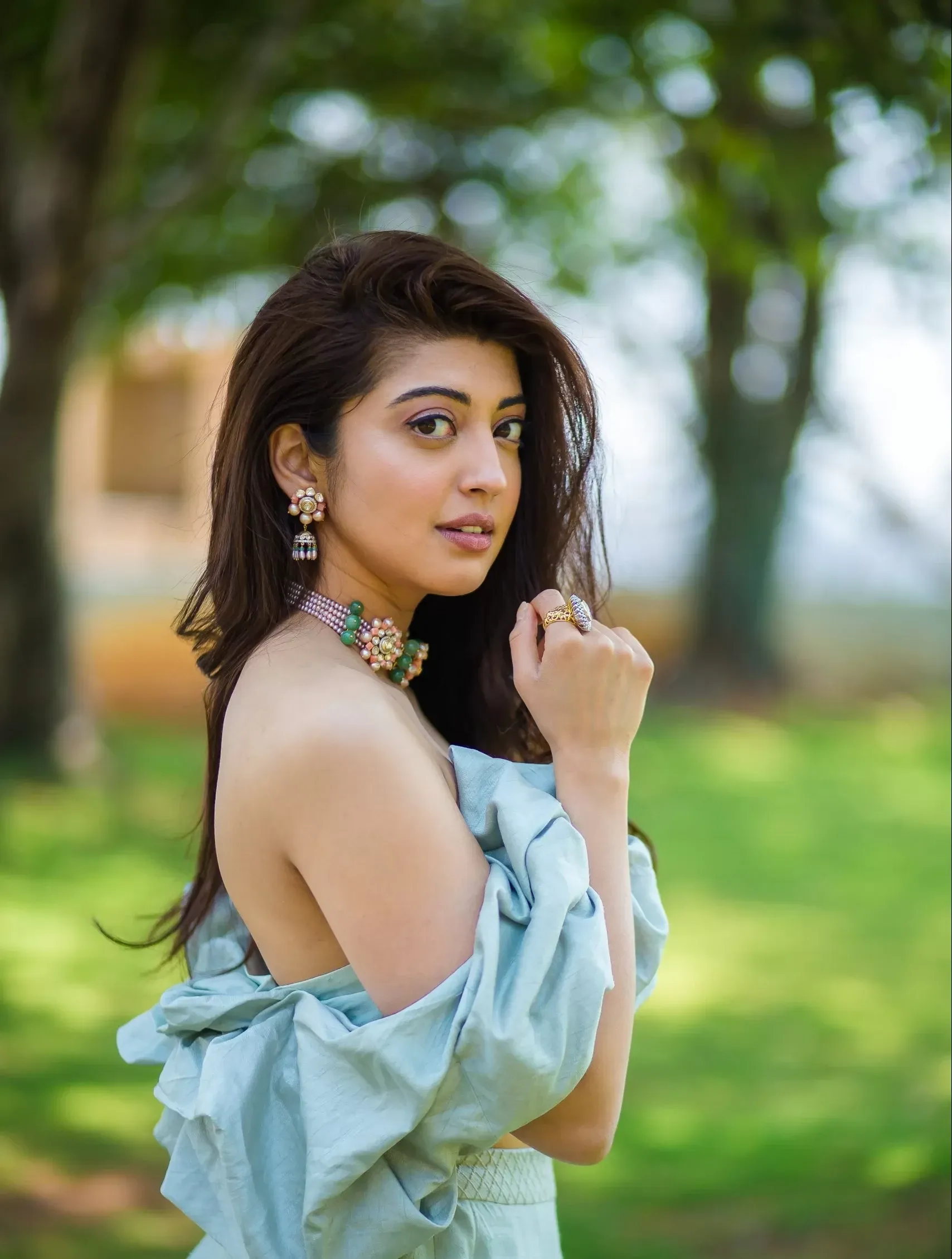 UNSTOPPABLE: Pranitha Subhash
ACTRESS PRANITHA SUBHASH EYES HINDI CINEMA SUCCESS
by MOHNISH SINGH
SUPER successful south Indian cinema star Pranitha Subhash has shown her impressive acting ability in Tamil, Telugu, and Kannada blockbusters.
Fans have loved her performances in such critically and commercially successful films like Baava (2010), Attarintiki Daredi (2013), Massu Engira Masilamani (2015) and Enakku Vaaitha Adimaigal (2017).
The versatile actress is now branching out to Bollywood with Ajay Devgn-starrer Bhuj: The Pride of India and Priyadarshan's hotly anticipated comedy Hungama 2.
Eastern Eye caught up with Pranitha Subhash to discuss her move into Bollywood, decade-long journey and the best part of her profession. She also spoke about sharing screen space with superstars Mahesh Babu, Surya and Karthi at the onset of her career. After establishing yourself in south Indian films, you're ready to set foot in Bollywood.
How are you feeling ahead of your Hindi cinema debut?
I'm a bit nervous because in spite of establishing myself in the
south, when you're debuting in a new language it feels like you're starting over. It's like day one all over again. So, I'm really nervous. I really wish the Hindi film industry and its audience accept me.
What can you tell us about Bhuj: The Pride of India and your role? 
In Bhuj, I play Ajay Devgn's wife. He plays Vijay Karnik who was in the Indian Air Force. The film is about the 1971 Indo-Pak war. Though it's a war drama, women in the film play vital roles. I really enjoyed playing this role.
How did you connect to this project?
I was being asked for various projects in Hindi and Bhuj was one of them. The role required someone who looked traditional. I think the south Indian and Marathi cultures are very similar and that's perhaps something which made the makers feel that I really suited the role.
Is it disappointing that your first Bollywood film is slated for a direct-to-digital release instead of a theatrical one?
In a way, yes, because I come from a school of thought where movies are like celebrations. It's like a festival in the south when a big hero's film releases. There is so much action in theatres and it is like one big celebration, with huge cut-outs and things like that. Some of my films have had 4am shows where fans stayed up the whole night celebrating, and reviews were out by 7am. This was expected from Bhuj as well because the country is filled with Ajay Devgn's fans. With the film releasing on OTT, it's a little disappointing. But since it's a serious, war film, I'm sure the OTT audience will lap it up. You must have watched Hungama (2003) growing up. It must have felt amazing to get cast in the sequel Hungama 2. Yeah, I obviously watched Hungama. Who would have thought I would one day be cast in the sequel! But I'm really excited about being part of this film because it's being produced by the same banner and directed by Priyadarshan.
What were the unexpected challenges and joys of working on a comic-caper like Hungama 2?
The biggest challenge was that we ended up having the coronavirus pandemic in between of our shoot schedule. It was quite a bummer. The last schedule was supposed to happen in April last year and we were supposed to release the film this year in June. But that just couldn't happen. Every film comes with its own set of challenges and it's fun if it's challenging.
Could you tell us a bit about your background and how you got into movies?
My parents are doctors, and there is nobody in my family who has any connection with the film industry. I'm a rank outsider. But I think the south Indian industry is quite open to working with newcomers. Quite often you see new faces. I got lucky that way. I debuted with Pokri (2010), the Kannada version of Salman Khan's Wanted (2009), opposite Kannada superstar Darshan, and immediately jumped to Telugu films and worked with Pawan Kalyan sir. It was really nice that I got a chance to work with all these amazing actors down south and to continue that stint in Bollywood. Fingers crossed!
You have worked with some of the most popular actors like Mahesh Babu, Suriya and Karthi to name a few. Were you intimidated or starstruck while working with them at the onset of your acting career?
To be really honest, since I lived in Bangalore, my entire circle was obsessed with Bollywood and English movies more than south movies. So, I wasn't very aware of all these stars when I was younger. Only after I got into the film industry, I started watching south films. When I met Mahesh Babu or when I landed on sets with Suriya and Karthi, I was really intimidated on day one because that's how it is for everyone. But as you shoot with them, you realise they are so humble.
When you look back at your decade-long journey, are you surprised that you have done close to 30 films in various languages, among many other things?
Obviously, it feels nice that the journey has been fulfilling and I have had a chance to work on some of the really interesting movies with well-established actors and directors.
What is it that you like most about your profession?
I think that it is one of the few industries that really teaches you how to be humble because every day is new, every Friday changes your destiny. It's really so unexpected; you can't really tell what's going to happen tomorrow or what's going to work for you.
Have you had a mentor in your career?
No, I haven't had a mentor, to be honest. When I get a project, I definitely consult people I am working with, or some of my friends in the industry when I have doubts about a certain project, certain genre or certain role that I have been offered. But I can't really point out that this one person is my mentor.
Is there anything else in the pipeline?
There is a Kannada film that I'm doing. Apart from that, I'm getting a lot of offers for films, streaming shows and some other great Hindi films as well. I can't talk about them until I sign on the dotted line.
Instagram: @pranitha.insta