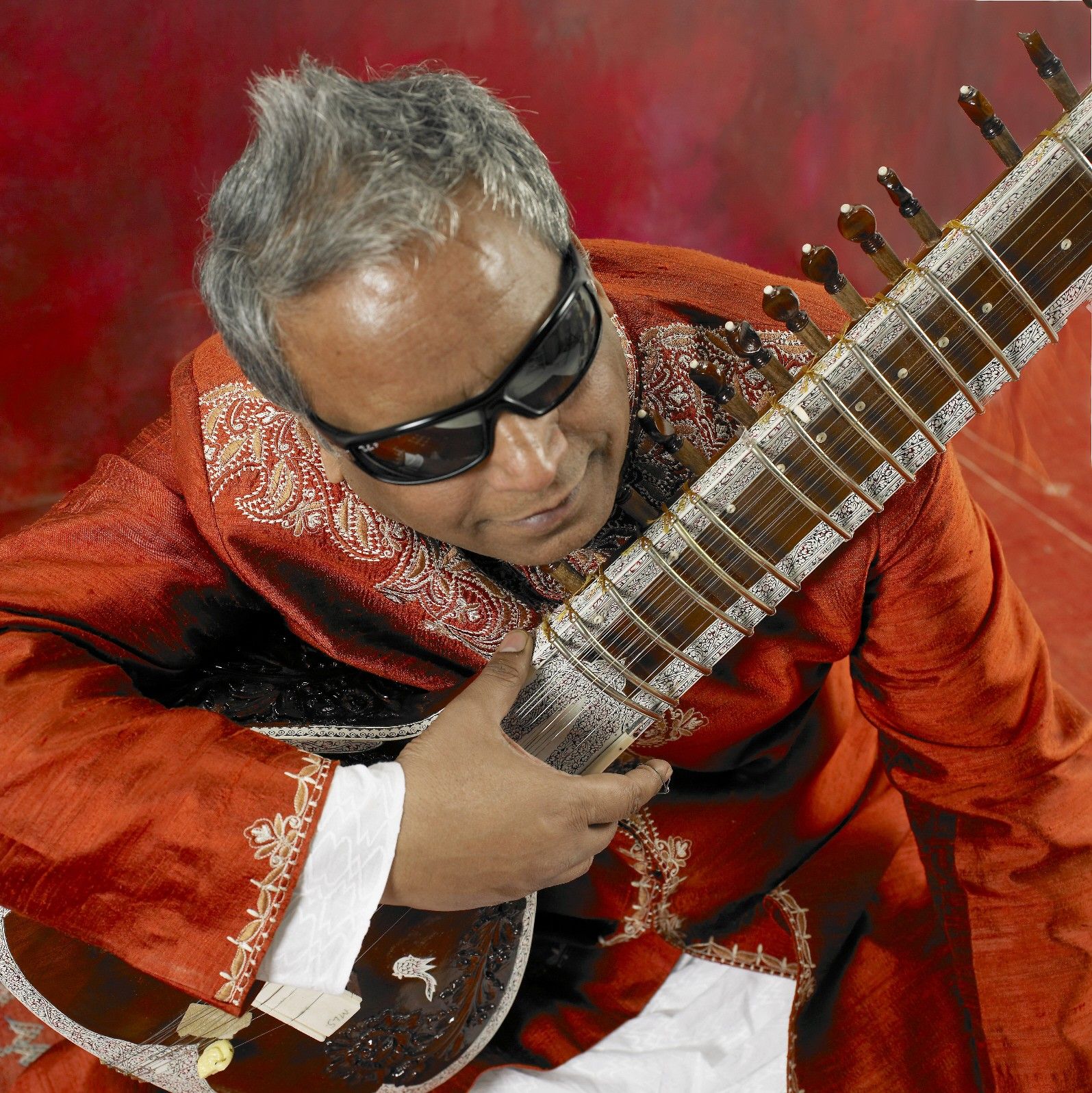 SOUND LOGIC: Sitar maestro Baluji Shrivastav released his new album Voice of Flowers: Spring Ragas from India last month
AN INTERNATIONALLY acclaimed Indian musician has spoken about the difficulties faced by visually impaired artists, revealing his own struggles after he lost his sight when he was an infant.
Award-winning performer Baluji Shrivastav has released 12 albums during his extensive career and has become known as one of the world's leading composers and sitar players. The 70-year-old is also the founder of the Inner Vision Orchestra, the only professional orchestra of blind musicians in the world. Co-created with his wife Linda Shanson in 2012, the ensemble aims to promote the work of blind and visually impaired artists.
Despite their talent, Shrivastav said many blind musicians struggle to get jobs in the music industry. "Nobody employs them, because many people think they have lots of problems," he told Eastern Eye. "Some believe (blind musicians) can't come to shows alone and they need to have all kinds of extra support…people find it easy to work with sighted musicians, therefore they don't consider hiring individuals with visual impairments."
Currently the orchestra has around 18 members. It has helped some conquer their stage fright, Shrivastav said, and build up their confidence. Workshops and concerts are still taking place, he said, although they are currently being held online, due to coronavirus protocols.
Shrivastav, who received an OBE for services to music in 2016, came up with the idea for the orchestra as a child. He used to play with other visually impaired musicians in India while studying at Ajmer Blind School after being rendered blind as a baby.
"However, we never had a chance (to create the orchestra) until I came to London," he said, noting the multi-culturalism of the city meant that musicians from all backgrounds could join. The music of the Inner Vision Orchestra features songs from a number of countries including Iran, Lebanon, Afghanistan, India and Nigeria.
Shrivastav grew up in a village in Uttar Pradesh in north India and said he had a happy childhood, despite losing his vision when he was just eight months old. He had an eye infection and when his family were unable to take him to a doctor, a neighbour offered to help them with a remedy. However, the mixture she put into his eyes blinded him instead.
He admitted the attitude to his disability varied in the UK more than it did in India. As a child, he was told to stay inside and was questioned about his decision to wear dark glasses. The belief in karma is widespread in India. This meant some viewed Shrivastav's blindness "as a right" to pay for bad deeds in his past.
In contrast, he has found Britons more understanding and eager to help. "People are much kinder (in the UK)," he said. "If you get lost, I've found that people assist you – even taking to your house, if needed."
As well as working with the orchestra, Shrivastav is still producing his own music. His new album Voice of Flowers: Spring Ragas from India was released last month, and is described as "capturing the rapture of spring, expressing seasonal feelings of renewal and hope through the subtle nuances of the chosen ragas (melodic framework in Indian classical music)."
Shrivastav hopes it will make listeners feel optimistic for the future. "I really hope that people will love it," the London-based musician said.
Collaborations with other artists has been a consistent part of Shrivastav's career – he has played with several high-profile performers including Coldplay, Annie Lennox, Stevie Wonder and Shakira. Partnering with other creative people offers him an opportunity to learn from them, he said.
"I love working with different musicians for that reason," he said, noting that music techniques in Europe are different to those in his native India. "I learn from (artists), but I also hope that they can learn from me too."
The album Voice of Flowers: Spring Ragas from India by Baluji Shrivastav is available now.