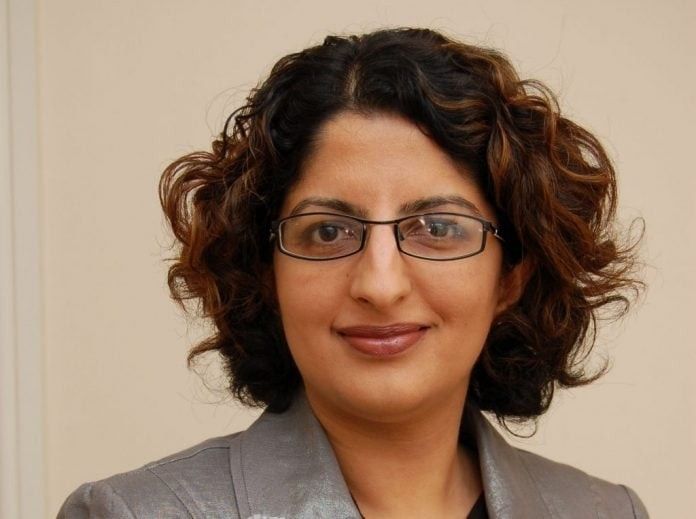 Reena Barai.
By Reena Barai
National Pharmacy Association board member
A POLL in December by the Royal Society of Pub­lic Health showed that three in four people would take a Covid jab, but only 55 per cent of respond­ents of Asian ethnicity said they would likely say yes to being vaccinated.
The figure was 57 per cent from BAME commu­nities overall, compared to 79 per cent of white re­spondents surveyed.
This is especially troubling considering that rates of Covid-19 infection, severe illness and death have been higher among ethnic minority communities, amplifying health inequalities that existed before the pandemic.
The high level of trust people have in their local pharmacists could be an important factor in over­coming doubts and misapprehensions about vac­cines for Covid-19.
Nearly half of the pharmacist workforce is made up of BAME people. Incidentally, half the members of the National Pharmacy Association (NPA) board, of which I am one, are from an Asian background.
What's more, pharmacies have a strong presence in deprived neighbourhoods, which is significant because polls have also shown significantly more vaccine hesitancy among lower income groups.
For these reasons, the NPA this month met the minister for equalities, Kemi Badenoch, about reaching out to patients and communities who might otherwise miss out on vital care, such as the Covid vaccine. I was among the participants at the meet­ing, alongside a GP from inner-city London and several others.
Badenoch told us the government is committed to addressing Covid-19 inequalities and learning from the Commission for Race and Ethnic Dispari­ties. She thanked us in advance for the critical role that community pharmacists all over the country will be playing in the vaccination programme. She told us our skill and insight are vital to ensuring those most in need of this protection feel well in­formed and confident to access the vaccine.
The NPA is absolutely committed to helping our members – family-owned pharmacies across the UK – play their full part in the battle against corona­virus, and we will work with the NHS to turn vac­cine hesitancy into vaccine into vaccine urgency.
According to the King's Fund (a health policy thinktank), a range of different concerns will need to be addressed – about the testing of the vaccine; about whether vaccines would be allowed on reli­gious grounds; and about government interference in people's lives, to name a few.
But even people who don't trust the vaccine do trust their local pharmacist and will have a dia­logue with them. From my experience, it's really important to give my patients the time and oppor­tunity to talk openly about their health beliefs. I've had many patients ask my opinion on the Covid vaccine and in particular, its safety and efficacy. It helps that this year, my team gave many their first-ever flu jab, people who had been afraid to have that vaccine because of its perceived side-effects.
As employers, anchors for local economic activ­ity and providers of healthcare to people of all eth­nicities, community pharmacists have an impor­tant role in supporting equality.
So we also took the opportunity to remind the minister about the current economic pressure on family-owned pharmacies, many of which are owned by people from BAME backgrounds and between them employ thousands of staff.
Having also recently briefed pharmacy minister Jo Churchill and vaccine deployment minister Na­dhim Zahawi, the NPA is very confident that phar­macies will be mobilised as a key component of the covid vaccine programme.
The vast majority of pharmacies provide flu vac­cinations, so there are thousands of potential local sites for vaccinating against Covid, staffed by rele­vantly experienced health care professionals. By vaccinating record numbers of people against flu this year (more than two million), pharmacies have shown they are capable of delivering vaccinations at scale. Most people live within walking distance of a pharmacy, so this will be a highly convenient op­tion for many.
Pharmacists have been on the health service frontline throughout the pandemic and now we are eager to join the latest, hopefully decisive, battle against this deadly virus.