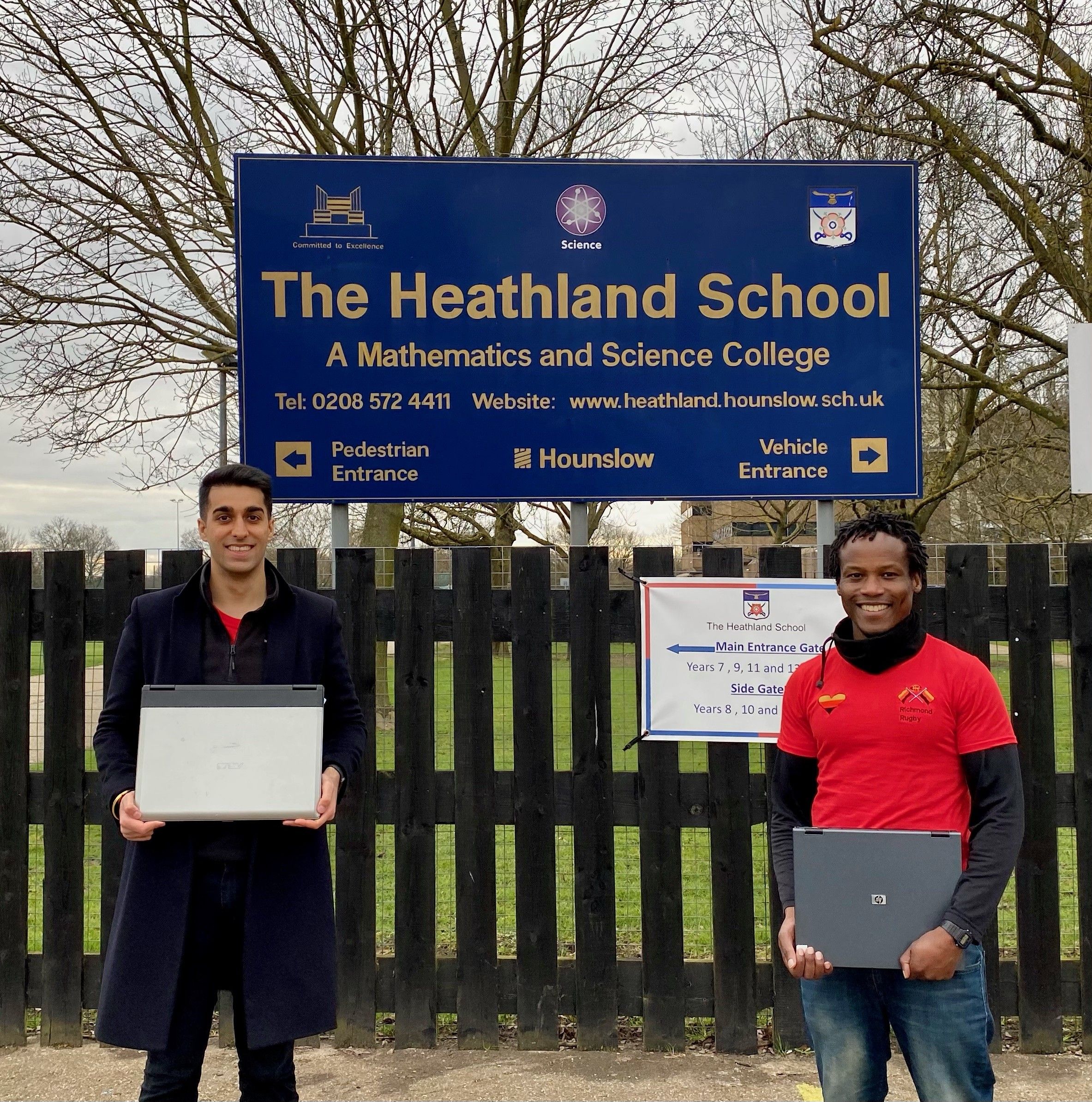 Councillors Vickram Grewal (Labour) and Ron Mushiso (Conservative).
TWO rival councillors, from opposing political parties, came together for a common cause to support students at their old school in Hounslow.
Cutting party barriers, Cllr Ron Mushiso (Conservative) and Cllr Vickram Grewal (Labour), former students at the highly regarded The Heathland School in Hounslow, joined forces to launch a second-hand laptop donation drive across the borough.
They collaborated with Richmond Rugby Club to start a borough-wide campaign of collecting old devices, refurbishing them with the latest software and redistributing to schools that needed them the most. This cross-party initiative led to over 400 laptops being collected in a matter of weeks.
Mushiso, a teacher himself, said: "It was easy to put our political differences aside. We were determined to do everything we could to support children from families less well off in Hounslow. Every child should have access to online learning during and after this pandemic."
For several weeks across the borough, drive-through collection points were set up at churches and community centres. "We have been overwhelmed by the generosity of our residents and thank them for donating hundreds of laptops. These devices will make an enormous difference to many children's lives who would otherwise be at a disadvantage to their peers and gives them the tools for a bright future," Grewal said.
Why did they decide to come together? It was the digital exclusion of hundreds of pupils across the borough for not having full access to online learning during lockdown.
In December 2020, the government announced that it would supply over one million laptops to local authorities and schools to enable pupils on free school meals to have the same learning opportunities as their peers.
However, when local school leaders and council officers, carried out a survey on the ground it discovered that the government's offer was not enough.
In case of shortfalls, schools were encouraged to contact the Department of Education directly to top-up their earlier allocation of laptops. Hounslow was falling short of 1500 laptops and could have had irreversible impact on the attainment gap for the most disadvantaged children across the borough.
The council swiftly acted by purchasing 750 devices, but there was still a shortfall of around 700 laptops.
Mushiso and Grewal are now back in their own camps ready to start another campaign. But this time, they will be trying to outdo each other supporting their respective candidates in the two by-elections in Hounslow and in the Mayoral Campaign on May 6, 2021.