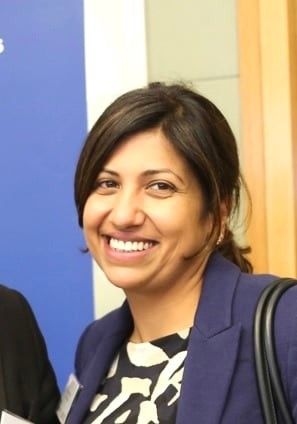 Sapna Chadha is a Conservative candidate for the Brondesbury Park seat.
BRONDESBURY PARK is all set to elect its next councillor in a by-election on May 6. Sapna Chadha, a local resident, entrepreneur, community activist is a Conservative candidate for the seat.
During the pandemic, she has been a member of the local Mutual Aid Group to help out neighbours, also a lead volunteer organiser for the Willesden Green Mosque vaccination centre.
After wrapping up a day's campaigning, Sapna heads to the vaccination centre for her session as a volunteer.
"It's great to be involved in delivering vaccinations because fighting Covid-19 is at the moment the biggest challenge facing London and the UK," she said.
Located close to central London and in an ethnically diverse community, the Mosque vaccination centre is a frequent destination for important visitors including UK's vaccine minister Nadhim Zahawi and other London mayoral candidates.
Giving Sapna's background in life sciences and medical technology, and her former role in the Department of Trade has made her a key organiser in the vaccination drive at the Mosque.
"Dealing with the pandemic is more important than faith labels. Our Muslim hosts are absolutely committed to delivering vaccinations to their community as part of the nationwide campaign. In fact, as an Asian woman, I've helped persuade other women from that background to be confident that the jab is
an all-round good thing."
Several "persuasive people" wanted her to stand for the vacant Brondesbury Park seat following the resignation of a Labour councillor.
"Fighting an election during a pandemic is challenging, but I am enjoying it and looking forward to getting the voice of residents heard about the local issues which affect their everyday lives such as ill-thought out road closures, crime and anti-social behaviour, the scale of developments and environment," Sapna said.
Sapna Chadha MP as a future aim? She says: "Maybe, maybe not. But the priority for me at the moment is improving local conditions and the daily lives of my fellow-residents and also helping them in the fight against Covid. British Indians are playing more and more important part in political and public life – the Chancellor of the Exchequer and the Home Secretary are examples, and I'm keen to be one of them."