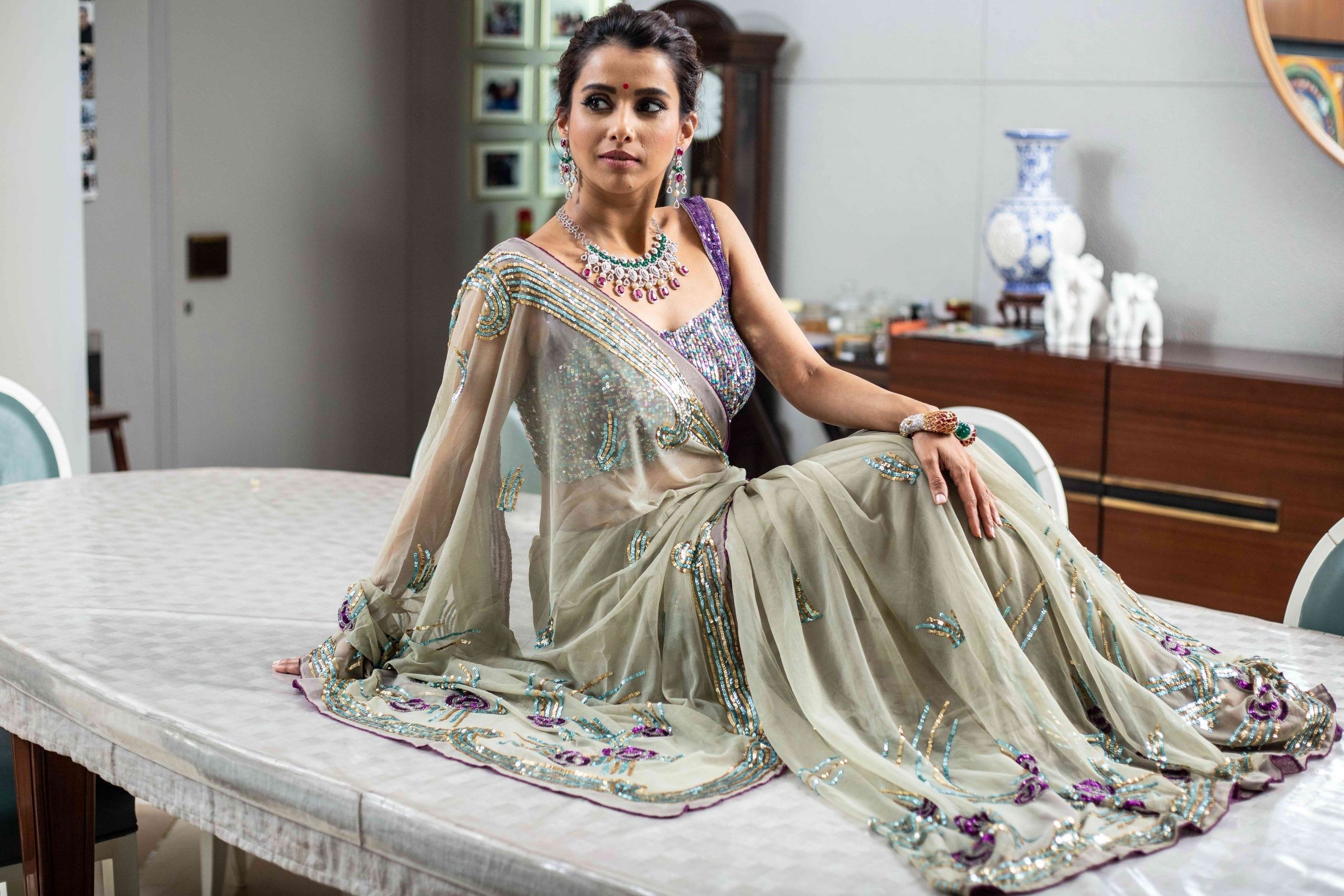 MIXED FEELINGS: Pranitaa Pandit
TV STAR PRANITAA PANDIT REVEALS WHAT SHE LEARNED FROM STARTING A FAMILY DURING THE COVID PANDEMIC
by ASJAD NAZIR
LOCKDOWN has been life-changing for a lot of people and even more so for popular actress Pranitaa Pandit.
The star of drama serials including Kavach, Kasautii Zindagi Kay 2 and Kasam Tere Pyaar Ki had a baby during lockdown. Her new child and slowing down to start a family has made Pranitaa look at life through a different lens, which made for an interesting conversation when Eastern Eye caught up with her to talk about her journey, giving birth during a global pandemic and future hopes.
How do you look back on your acting journey so far?
I've had an amazing acting journey. It has been full of ups and downs, but at the same time, I've got to play various kinds of characters. From playing a psychic and an out-and-out negative character to grey-shaded roles and playing somebody who's very positive, I've had a lot of variation, which is what makes me really happy about my acting journey. I have really grown as an actor and learnt a lot but I feel I still have a lot to explore. Now I have more clarity and ideas about what I want to do, and how I look at my career in the future.
Which of your characters is closest to your heart?
The character closest to my heart will, of course, be Netra in Kasam Tere Pyaar Ki because that gave me a lot of variation as an actor. It had various shades to it. I've explored comedy in that particular character. I've portrayed somebody who's psychotic, negative, very positive, a fantastic lover and a caring mother, so it has given me a lot of variations. Also, I had taken a break from acting for a year and resumed with that show, which really benefited my career. So it has been one of my favourites.
What was it like for you to have a baby during lockdown?
I think the lockdown has still not ended. but it's weird. The whole experience was very mixed. It was good because I got to spend a lot of time with my child and didn't have to rush to do any work. I was at home throughout, so that was definitely the positive. I experienced her growing up completely. I've not missed a day or even a few hours with her, so that is the plus point. But it was very traumatic also in its own way.
Tell us about that?
Even now it is scary to step out. You are constantly protecting your family and living with that little fear that tomorrow anything can happen. It has been very scary and stressful, especially because I live in a joint family. It is even worse for me because it's not only two people who I have to take care of, I also have 10 people in my house. So, it has been really challenging.
How has motherhood changed you?
Motherhood has made me very compassionate and patient. It has changed me as a person completely. I was somebody who was all over the place and very impatient. I would bounce from morning until evening, doing 10 different things. I now have just got this huge kind of stability and patience in me which is amazing. I don't think I could have achieved this kind of clarity and patience had I not been a mother.
Will you now slow down from work?
Right now, the pandemic is not completely over. I don't think I will be resuming work even though I have been getting calls. I am dying to work, but can't risk it because I have parents at home and a small baby. But as soon as everything goes back to normal, we're all vaccinated and this is over, I am not going to be slowing down; actually, I am going to be pacing up my work.
What is the plan going forward?
As soon as everything is back to normal, I would really want to go back to work. I am looking at some OTT platforms I would really want to work with and start on that note, instead of picking up a daily soap because they are a long-term commitment. I would prefer something which is impactful but at the same time, fits with my schedule.
Do you have a dream role?
I have various characters I still would love to play. There are various kinds of roles I see in movies and feel, 'Oh my god, I would've done such a fantastic job with it maybe.' Something like The Devil Wears Prada would be my dream role.
What do you enjoy watching as a viewer and have you binge-watched anything?
I love watching real-life series and have really binge-watched a lot of them. The latest one was The Serpent and I loved it. I think it was shot well, made well and communicated well because it's not easy to portray somebody's real life the way they have done it, and it's quite intriguing and interesting.
What is the biggest life lesson the lockdown has taught you?
The biggest life lesson the lockdown has taught me is actually 'I = illness and we = wellness'. So if I only think about myself, I am really not going to help the situation. If I want to go out to meet friends, family, not wear a mask and not sanitise my hands, I am just going to cause illness to others and eventually myself. I think of it in a broader picture, like we are all in this together and have to really fight this together. We all have to get vaccinated, wear masks, sanitise, be careful and think about each other. That will be equal to wellness.
What is your idea of happiness today?
My idea of happiness is very simple. I just choose to be happy and that's how it works for me.