GIFTED: Kiranee
SINGER DISCUSSES HER LATEST EP
by ASJAD NAZIR
A REMARKABLE journey has seen British singer Kiranee go from a bespectacled shy young newcomer to becoming a successful singer.
Having moved from London to Mumbai, she has worked with major names from the music industry and has an impressive list of hit songs to her name.
Today, the multi-talented singing star also runs exciting new record label Break The Noise with ace music producer Rishi Rich and balances developing new talent with using her unmistakable voice to record big tracks.
For the recently released EP 3 Chapters, she teamed up with Rishi Rich, Mumzy Stranger and Jagtar on three terrific tracks that incorporate a variety of genres.
Eastern Eye caught up with Kiranee to talk about her music journey, the new EP, running a record label and her long association with Rishi Rich.
How do you look back on your musical journey?
I'm very proud of everything I've been a part of. I have played an active role in many songs over the years and each project has really helped me grow not only as an artist, but also as an individual. I was a very self-conscious girl when I started out in the industry 11 to 12 years ago, and now I feel strong and wise. I am hungrier than before.
Is there any one track or moment you are most proud of?
There have been many to be very honest with you. Playing the first mix of my track Sun Sajna from the movie Bhangra Paa Le to Diljit (Dosanjh) to see what he thought of it (he was in the studio for
something else). Also, sitting at Bappi Lahiri's house and hearing stories
about his musical journey, and the love and respect he showed me when he asked me to sing for him. Even just moving to Mumbai, I think, is something I'm super proud of, even if I do say so myself.
You have spent a lot of time in India in the past decade.
Where is home for you?
London has my heart. London is where my family, my childhood and history is. But Mumbai has my soul. This city has captivated me and I feel so alive here and creatively free. I've done the best work I have ever done because of how welcoming this city is and how much talent there is here. Until that changes, I'm staying put.
What was the experience of recording the 3 Chapters EP like?
Putting together 3 Chapters was an idea I brought to Rishi because I wanted to put together a small body of work to showcase multiple genres of music across the board, with a hint of international flavour and nostalgia. It's been amazing seeing that vision come to life and now putting it out into the soundscape for everyone to enjoy.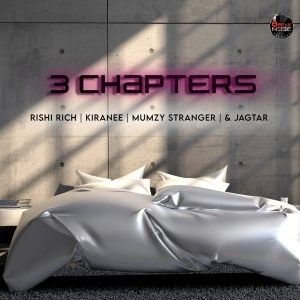 The EP has varied songs. How important is for you to do different projects?
It's very important to work on a variety of projects because at the end of the day that's your audience – varied. Artists create music for the people that enjoy and listen to music, so it's very important, in my opinion, to showcase a variety of music to them.
You are versatile, but which genre do you enjoy more?
Firstly, thank you! Secondly, my favourite genre is what I call p'n'b. Punjabi r'n'b! You know skating around the melodies and sultry-ness of r'n'b and fusing them with the sweetness of Punjabi and Hindi also.
What has the experience of balancing singing with running the record label Break The Noise been like?
It has been so beautiful to be able to now dive deep into the business of music and give back to the industry I have loved being a part of as an  artist. It requires a lot of balance, hard work, dedication and focus, but it's been truly a blessing. The label was something Rishi wanted to bring about and I am fortunate enough to be a part of his vision.
The label is pushing a lot of new talent. How important is that for you?
So important! Music, regardless of industry and country, is always evolving and with that has to come new talent. You have to push, promote and also develop new talent. I wouldn't be where I am without Rishi and Veronica believing in me, and pushing new talent.
What is Rishi Rich like to work with?
Every day is a new day! We have been best friends for 10 years plus and our dynamic working in the studio is so much fun, but also a learning curve. He's a great friend and also someone whose art and talent is unstoppable.
What has kept your working relationship strong?
I think the fact that I am never tired of learning from him. I'm constantly watching him and how he does things, and it is insane how much I have picked up by doing so. I have no issue sitting in the studio by myself, producing a record or having a mess around with sound packs and laying down compositions and vocals. Rishi has moulded me into a very strong artist for sure.
What can we expect next from you?
More music, more involvement in a variety of projects with a lot of artists and more work with our record label.
You generate a lot of emotion in your voice, where does that come from?
Bappi Lahiri once told me that I have a lot of courage and pain in my voice. It comes from within. I definitely don't talk about how I sing, but I am blessed with a gift.
Today, what would you say is your biggest unfulfilled musical ambition?
I have always wanted to produce an Indian musical show like Bombay Dreams. I don't think I have the time now.
What inspires you?
Music inspires me. If I hear a piano or a beat, I can't explain where the melody or where the lyrics come from. But good music inspires me.
What does music and singing mean to you today?
I wouldn't be where I am without music, and without my voice, I guess I wouldn't be anywhere. It's my life now. I'm so glad I chose to focus all my efforts on my art. I can only pray that it continues to bring about great vibes and blessings.