1. DKNY Golden Delicious Million Dollar Fragrance Bottle – $1 million
The famous designer, DKNY teamed up with the famous jewellery designer, Martin Katz to design and create the most elegant, and expensive perfume ever. The bottle contains 2,909 precious stones, all-in-all, and they include, 183 yellow sapphires, 2,700 white diamonds, a 7.18-carat oval Cabochon sapphire from Sri Lanka, 15 striking pink diamonds from Australia, 4 rose-cut diamonds, a 1.6-carat turquoise Paraiba tourmaline from Brazil, a 3.07-carat oval-cut ruby, a 4.03-carat pear shape rose-cut diamond and a 2.43-carat flawless, yellow Canary diamond that adorns the cap.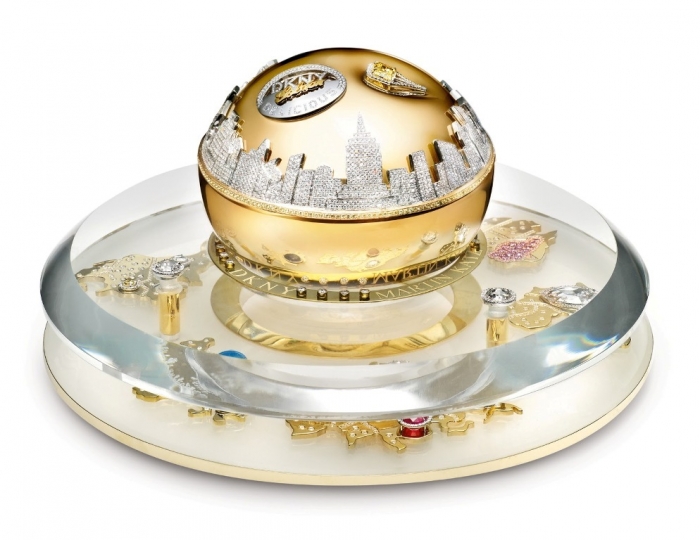 2. Clive Christian No. 1 Imperial Majesty Perfume – $12,721.89 per ounce
It was created by Clive Christian which is known for presenting the most luxurious perfumes in the world. The fragrance and bottle are made from precious and rare ingredients. This perfume holds the Guinness Book of World Records title as the most expensive perfume in the world. Released in 2005, only a 10-bottle run of this super-rare, super-exclusive limited edition perfume was released for sale in the famous Harrods store in London and Bergdorf Goodman in New York. For the fragrance, you can find a combination of sandalwood, cardamom, mandarin orange, Indian jasmine, white peach, bergamot, benzoin, lemon in addition to other rare notes.
3. Baccarat Les Larmes Sacrees de Thebes – $6,800 per ounce
Baccarat is a luxury crystal glassware manufacturer and one of the leading choices in artisan bottle creation for high-end perfume companies around the world. The ingredients include a blend of amber, jasmine, rose, Egyptian cassie, as well as myrrh and frankincense to evoke the smell of the Middle East. The bottle is designed in a unique way as it takes the shape of a pyramid which is inspired by the Egyptian pyramids.
4. Chanel Grand Extrait – $4,200 per ounce
Chanel has been synonymous with luxury around the world ever since Coco Chanel released the iconic fragrance, Chanel No. 5, in 1921 – created by legendary perfumer Ernest Beaux. The fragrance is composed of aldehydes, rose, ylang-ylang, civet, iris, musk, jasmine, amber, sandalwood, vanilla and lemon. The fragrance was then enhanced with its signature feature which is a 1% overdose of aliphatic aldehydes, a chemical that improves scents.
5. Clive Christian No. 1 – $2,150 per ounce
This perfume was rated the most expensive fragrance in 2001 and 2006 when its original editions were launched. There are two flavours: Floral Oriental for women and Woody Oriental for men. The heart notes are a combination of lily of the valley, rose, jasmine, ylang-ylang, and heliotrope. The base notes are a result of vetiver, vanilla, amber wood, cedarwood, and sandalwood. This enchanting perfume is packaged in a handmade crystal bottle that has a neck made of 24-karat gold-plated sterling silver, set with a solitaire.