1. LuLu International Shopping Mall, Kochi
LuLu Mall, in the city of Kochi, Kerala, is the largest shopping mall in India in terms of total area. With an average daily footfall of more than 80,000, it is one of the most visited places in Kerala. Spanning over 17 acres with a total built-up area of 2.5 million square feet, the mall has a total retail space of 1.7 million square feet. The estimated cost for this project is more than ₹16 billion or US$250 million.
2. World Trade Park, Jaipur
World Trade Park is a shopping mall in Jaipur and it is the second largest mall in the country in terms of total area. The mall is known to display images on the ceiling, the first system of its kind in the world. The construction of World Trade Park Jaipur is worth Rs. 350 crores. The construction took two years for its development. The building has two different blocks; one in North and other in South, separated by City Street.
3. DLF Mall of Noida
DLF Mall is located in Noida NCR, Uttar Pradesh. It is spread across the retail space 2,000,000 sq ft. The mall is divided in 5 zones spread over 7 floors. It includes 330 brands that include 100 fashion brands, along with 75 food and beverages options along with many entertainment choices.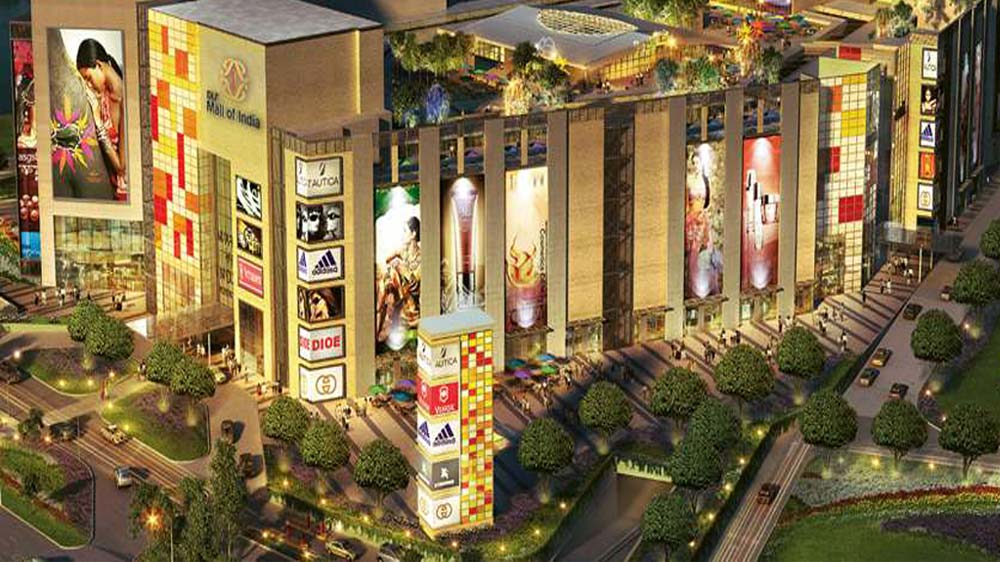 4. Elante Mall, Chandigarh
Elante Mall is a shopping mall in the city of Chandigarh in India. With the gross leasable area of 1,150,000 sq ft. Elante Mall hosts retailers of various Indian and international brands, a food court and a courtyard. The Mall has 8-screen Multiplex. On its top floor, the mall has restaurants, fast food joints and a Fun City for kids entertainment.
5. Phoenix Market City, Bangalore
Phoenix Marketcity is a shopping mall developed by The Phoenix Mills Co. Ltd., located in Bengaluru, India. With 1,400,000 square feet (130,000 m2) of retail space on four floors, the mall has over 270 stores, nine-screen and a food court.