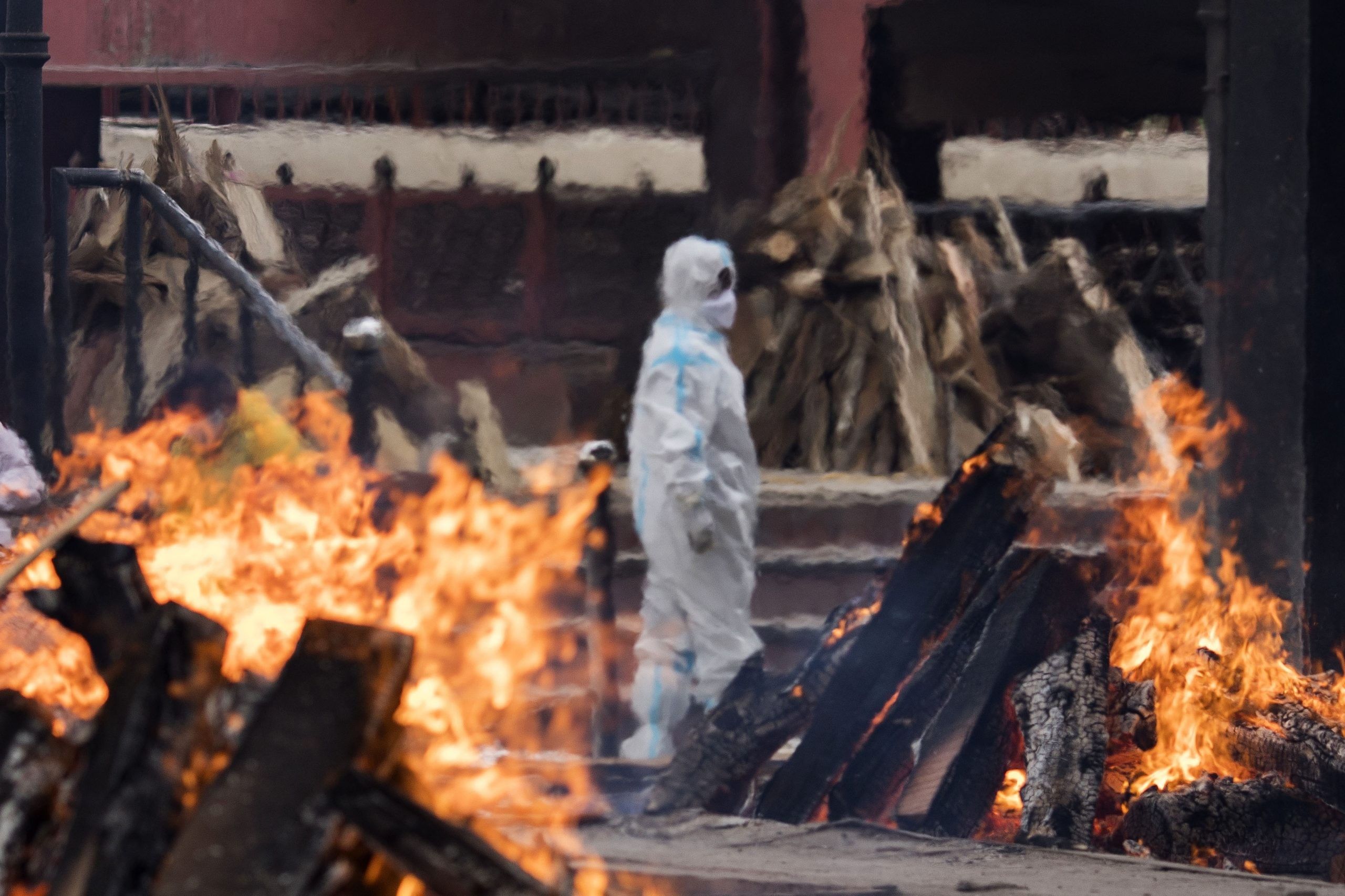 A man wearing PPE performs the last rites to his relative who died of the Covid-19 coronavirus disease at a crematorium on April 20, 2021 in New Delhi (Photo: Anindito Mukherjee/Getty Images).
By Amit Roy
SOME sections of the British media, LBC presenters in par­ticular, were campaigning for India to be put on the "red list" of Covid countries.
Now that they have got their way, Indian nationals will be banned from coming to the UK.
The red list was due to take ef­fect from 4am BST on Friday (23), but anyone who has been in India in the previous 10 days is also barred from coming.
It is apparent the pandemic is witnessing a dangerous new surge in India. It is disappointing that the country's top politicians have been holding big campaign rallies for the (state) assembly elections currently under way and failing to ban super-spreader festivals such as the Kumbh Mela.
Surely this is not responsible behaviour. When Covid spreads, it is the poor and migrant labourers who suffer most.
Before the red list was an­nounced on Monday (19), pas­sengers coming from India had to show they were clear of Covid by taking a test 72 hours before de­parture. On arrival, they had to quarantine at home for 10 days.
They also had to take pre-paid Covid tests on the second and eighth day after arrival. These cost nearly £200 each – which seem to be a cynical money making exercise.
From Friday, only UK passport holders and those with residence rights will be able to travel to Brit­ain. They will have to quarantine in government-approved hotels for 10 days at an additional cost of nearly £2,000.
Clearly, treating India as al­most an international pariah will badly damage bilateral trade and business between the two coun­tries. Family links – the "living bridge" – will also be disrupted.
Currently, there are nearly 40 countries on the red list. Most of them are in Africa and South America, but it also includes Paki­stan and Bangladesh.
It is being argued that the Indi­an "double mutant" – so called because the "B.1.617 strain" is the combination of two other mu­tants, "E484Q and L452R" – could undermine the lockdown process in Britain. Public Health England has confirmed more than 100 cases of the Indian variant.
There was so much political pressure on the government that British Indians should not have been surprised when India was put on the red list – especially af­ter prime minister Boris John­son's Delhi trip was cancelled.
Speaking on LBC before the red list announcement on Monday, Paul Hunter, professor in medi­cine at the University of East An­glia, said: "I think if we're going to have red traffic light system for international cases, I would cer­tainly believe that India should be on the red list, along with other countries that actually don't have as big a problem as India has."
Hunter added that although it was "early days yet, the thing that is worrying us all about the Indian variant is that it probably has two escape mutations. So it is certain­ly plausible that this will be even less controlled by vaccines than either the Brazilian or the South African variants."
Stuart Neil, professor of virolo­gy at King's College London, took a similarly cautious line: "We just don't know enough about this variant at the moment. But we should be concerned about it as we are about the Brazilian variant or the South African variant.
"It's exactly the same reason – this virus is less sensitive to some of the antibodies we engender.
"I do want to stress that it does not mean the vaccines are useless against it, either. No, we don't be­lieve that to be the case.
"But we don't want this thing to be spreading in a vaccinated pop­ulation and acquiring new muta­tions that will render those vac­cines useless. So we really ought to be putting India on the red list, in my opinion."