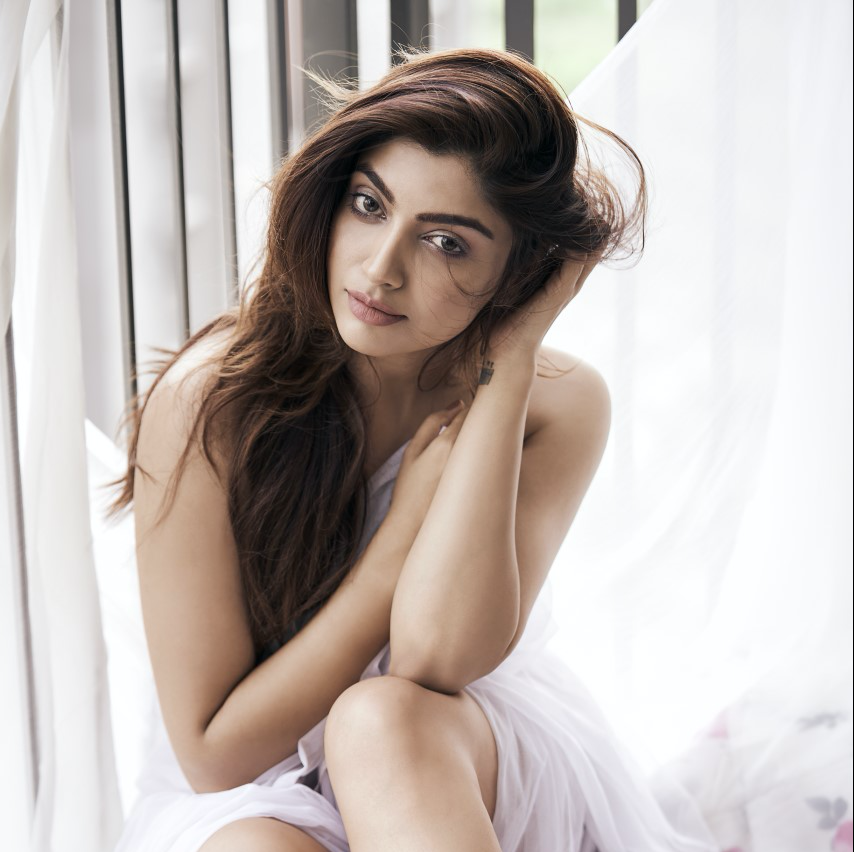 DYNAMIC: Akanksha Puri
THE TALENTED ACTRESS TALKS ABOUT HER JOURNEY AND WEB SERIES MOVE
by ASJAD NAZIR
ACCLAIMED actress Akanksha Puri doesn't believe in looking back and this has resulted in what she describes as a beautiful journey filled
with continuous hard work.
This dynamic drive to always move forward has resulted in interesting work on film and television. The popular Indian star describes the wide variety of roles as a favourite sushi platter filled with everything she loves. With more tasty projects on the way, that assortment will continue to increase and has made her one to watch.
Eastern Eye caught up with Akanksha Puri to discuss her career, future hopes and passions away from work.
Which of your many roles was the most memorable?
It's very difficult to answer because every role is special and that's why I did it, but my role of Devi Parvati has a special place in my heart. I will always be emotionally attached to my character and my Ganesha family. I got immense love and respect with this role and can't thank everyone enough. I feel blessed.
What was the experience of playing Devi Parvati in long running serial Vighnaharta Ganesha like?
It was very beautiful. I have really grown as an artist after being a part of a show for almost 800 episodes. I got a chance to portray more than 100 avatars in one show. TV taught me hard work and a lot of patience. I feel more confident and polished as an actor after doing Vighnaharta Ganesha and am taking a lot ahead from this show.
How do you approach playing the role of a goddess as an actress?
Lots of people warned me that I might get typecast and some even said I am too glamorous, and audience won't accept me as Devi, but here I am. I guess I proved everyone wrong and broke the stereotype.
What is your acting master plan?
One of the biggest lessons I learnt with my experience is that you, 'act the best when you don't act at all'. I try not to act and am a completely different person after my director says action. So, I am just going with the flow and have picked up all different roles in my coming web series – each role is completely different from the other.
Do you have a dream role you would love to play?
I can't say it as a dream role because then I will be disrespecting the roles I am doing right now, but yes, I want to do a larger-than-life role. I want to play a famous historical character in a period drama.
Tell us about your forthcoming projects?
I am simultaneously shooting for two web series for two big platforms now. I will begin shooting for my third web series after this. Then I begin shooting for my south project. I will be even shooting for two more video songs in between. So, there is a lot happening! God has been very kind. TV definitely is not on the cards right now.
How do TV, film and the web series compare, and what do you prefer?
If I have to compare then definitely movies and web series have a similar pattern of shooting with every scene being prepared in advance. We have our workshops, rehearsals and even reconstruct the scenes on set. But TV has a lot of pressure of telecast on the artist and directors, so you have to be on your toes always. You have to give your best in the first take because you may or may not get time for another. TV teaches you a lot about hard work and spontaneity. Movies and web series on the other hand teach you perfection.
What are some of your passions away from work?
I am a very disciplined person and have a very simple routine. I am not very social and like to stay away from drama as far as possible, but yes, I love working out and weight training. That is definitely my passion after travelling. I am training my body very differently this time. My focus is to look tough and increase my strength. I am even preparing my body for my south project, which has similar requirements.
What do you like watching as an audience member?
Oh, I binge watch web series! You just name it or ask me reviews about any web series you want. I am crazy about web series. I love it and guess this is also one of the major reasons I got inclined towards working for OTT.
Why do you love being an actor?
The versatility and variety. This is the only profession where you can be whatever you want. You can actually live so many different characters in one life. Every day is different. Something that scares me the most is being monotonous and doing the same thing everyday, and this is the reason I couldn't do TV for long. I want my work to be thrilling and exciting and full of surprises.
Instagram: @ akanksha8000