UNIQUE VOICE: Saima Mir
SAIMA MIR DISCUSSES HER BOLD DEBUT NOVEL
by MITA MISTRY
THE debut novel from acclaimed journalist Saima Mir has been described as a once-in-a-generation crime thriller.
Her boundary-breaking book The Khan revolves around a successful London-based lawyer who must return to her northern roots when her father, who was head of the Pakistani community and ran the local organised crime syndicate, is murdered.
What follows is a bloody battle for power with a strong British Asian female protagonist, who is not all she seems, caught in the crossfire, trying to get justice and being forced to confront a bloody past.
The dark crime thriller, available now, has already started getting rave reviews and has set the talented writer up to become a unique voice on the British literary landscape.
Eastern Eye caught up with Saima Mir to discuss her thrilling new novel, the challenges of writing it, inspirations and books she enjoys.
What first connected you to writing?
I've written since I was a child. My nana (maternal grandfather) was a journalist in Iran. He passed away in his forties, and writing became a romanticised profession in my family. I've always loved books and stories, and would spend hours in my bedroom reading.
What led you towards your novel The Khan?
My first journalism job was as a cub reporter for The Telegraph & Argus  in Bradford, and I got to hear some amazing stories and some tall tales. The night PC Sharon Beshenivsky was shot, I was sent to cover the story. There was something about that night – I was the only Asian journalist there and found myself in a situation where my language skills and cultural knowledge put me a step ahead of other reporters. It planted a seed in me that grew over time to become The Khan.
What drew you towards writing in the crime genre in particular?
I covered crime as a journalist, and something about the ordinariness of criminals stayed with me. We expect monsters to look like monsters, but people who commit crimes are just people like you and I, who have
seen a different set of circumstances. I love the nuances of this genre,
the pace and the intrigue.
Tell us about the book?
The Khan is the story of the estranged daughter of a criminal kingpin. Jia Khan is a successful London lawyer who has little to do with her father's criminal activities in the north. But when he is killed and her
brother kidnapped, she finds herself drawn back into their world. It is essentially a story about family, learning that life isn't as black and white as we like, but it is also about race, religion, patriarchy, and how far we will go for those we love.
What was the biggest challenge you faced while writing the book?
As the mother of three small boys, finding time to write was the biggest challenge.
Is the main protagonist in the book based on anyone in particular?
I guess even though Jia Khan is a criminal, she is based on my experiences of navigating a male-dominated world.
Is there any part of the book that you love most?
I love the characters, their frustrations, grit and loyalty to one another, and I love the character of Jia Khan. She is a reaction to the submissive Muslim women I saw represented in books and films around me, and a reflection of the strong, resilient British Asian women I actually know. I've written the book I wanted to read, but couldn't find.
Who are you hoping connects with the book?
I'm hoping the book will change the way people think of Muslim women and British Asian women, and stop compartmentalising us.
Did you learn anything about yourself while writing the book?
The rage that spills onto the page surprised me. I didn't set out to write anything so intense.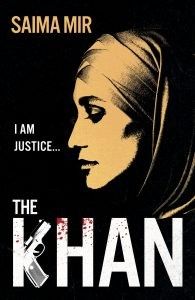 How do you feel before the book is released into the world?
I am really proud of this book, and also a little nervous. As a writer, one never feels a book is ready to be handed over to the world, and it kind of has to be abandoned, but I'm honoured to have worked with a brilliant team at The Good Literary Agency and at Point Blank. They have shaped The Khan into something beautiful.
What inspires you as a writer?
Family, and relationships, the nuances of love, and the things we don't say to each other, but feel. I'm inspired to write by the struggles that tear us apart and the things that put us back together. The fact that we see the world as we are and not as it is, really intrigues me.
What kind of books do you enjoy reading and do you have a favourite?
I love stories of every kind. I don't read 'worthy' books, because I don't have the brain space for them, and I read mainly for pleasure. I've currently finished Dominicana by Angie Cruz, and Imran Mahmood's new book I Know What I Saw.
Why should we pick up your new book?
You should pick up The Khan because Jia Khan is not a character you will have met before. She is the opposite of how brown women, and Muslim women are portrayed before. Once you've met her, you'll never be the same.