GG2 Power List
Celebrating Britain's 101 Most Influential Asians 2022
---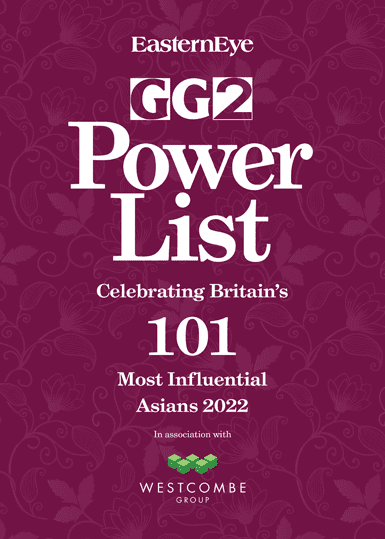 WELCOME to the eighth edition of the GG2 Power List, profiling Britain's 101 most influential Asians.
It is always a pleasure to celebrate the extraordinary talent that exists in the British Asian community and this year's list is no exception.
Each year, the list undergoes an extensive refresh and our panel of senior editors and experts face an arduous challenge in whittling down our long list to 101. Much heated debate takes place, but we are confident that we have presented a snapshot of Asian power and influence in Britain today.
The mayor of London, Sadiq Khan put it eloquently in an exclusive interview with us when he said "the GG2 Power List is about the best and most talented people in the country, who just happen to be Asians".
That, in a nutshell, is one of the primary reasons behind this list – that these outstanding individuals will inspire and nurture the next generation of leaders and achievers.
This year's list is an eclectic mix of talent across the nation. From politicians and senior police officers charged with keeping the nation safe from terrorist attacks to senior lawyers and judges operating in some of the uppermost courts in the land, the power and influence of the community is evident at the very highest levels in Britain.
From the media and the arts to science, technology and medicine, the Asian community is making its presence felt. Actors like Riz Ahmed, Jameela Jamil and Adeel Akhtar are taking on roles which are far removed from the stereotypical shopkeeper, doctor or terrorist. Research scientists and doctors are working on technological and medical advances that will have a profound effect on the future of our world.
Britain should be rightly proud of what it has created – not everything is rosy or perfect, but such a large cohort of talented people is significant and awe-inspiring.
Along with the GG2 Leadership Awards and the GG2 Diversity Conference, we celebrate the success of ethnic communities in Britain and showcase how a more inclusive society can unleash talent.
When the GG2 Leadership Awards were instituted in 1998, shortly before the Macpherson Report into the murder of Stephen Lawrence, one could never have imagined that 20 years later, an Asian would occupy one of the three great offices of state. We have indeed come a long way as a community.
My final thanks to the GG2 Power List team – it has been an enormous effort and one I hope you will all appreciate.
Ramniklal Solanki CBE Editor-in-chief