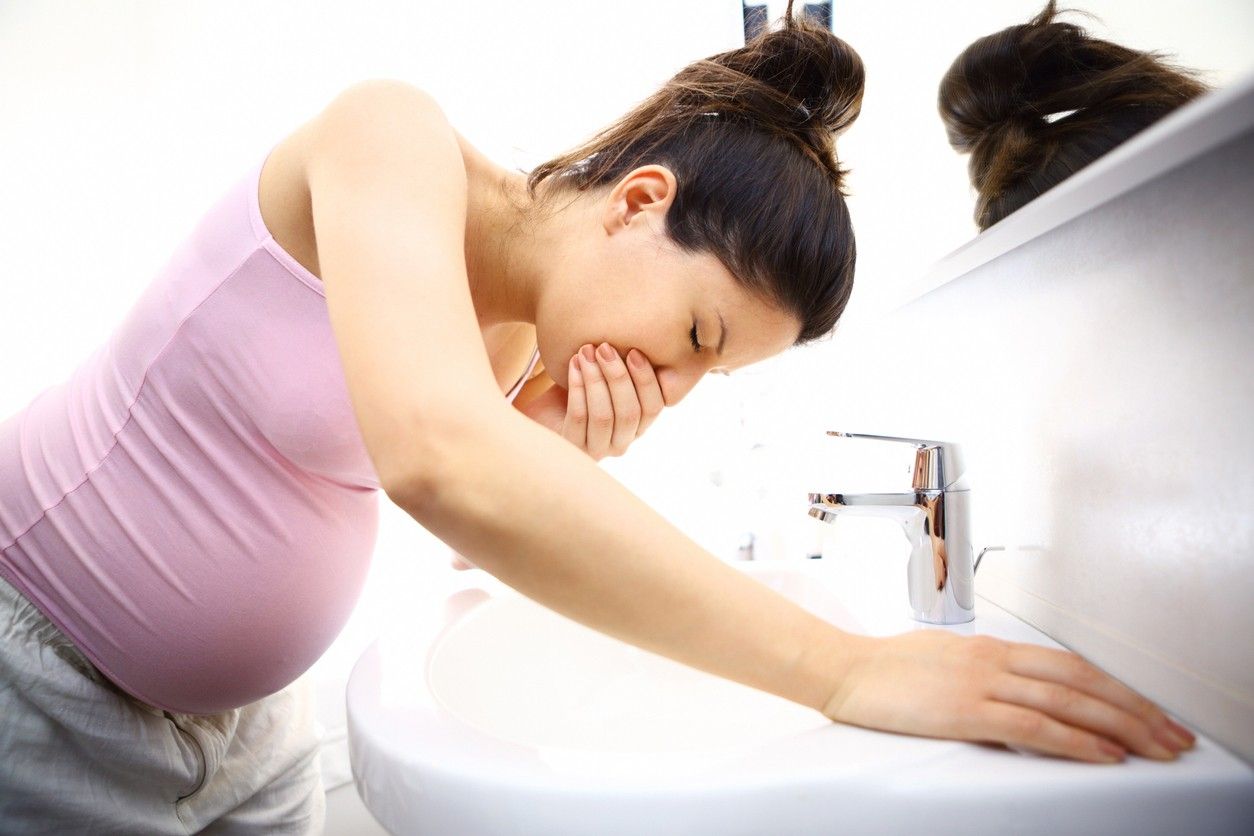 THE DEADLY JOURNEY OF A HYPEREMESIS GRAVIDARUM SURVIVOR
by JYOTI GADHVI
IT'S been almost three years since I fell pregnant. It started pretty normally. I went on a holiday to New Zealand unaware I was even pregnant and tested positive when I got back. I was a little tired, and craving fresh fruit and vegetables. One morning at the start of week seven, I woke up to a churning stomach and little did I know at that this feeling would come to define my pregnancy.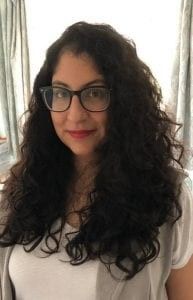 Hyperemesis gravidarum (HG) is a pregnancy condition that causes extreme nausea and vomiting. It affects between one to three per cent of pregnant women and is often debilitating. Many people think of pregnancy sickness as 'morning sickness', when you try to explain HG, but it is not the same. Pregnancy sickness affects up to 80 per cent of pregnant women and involves nausea and vomiting, but the sufferer can keep some food and water down. It generally disappears by 12 weeks.
Hyperemesis, on other hand, involves nausea that lasts from the moment you wake to when you sleep, and sometimes even while you sleep. Some women are so violently sick with the unrelenting vomiting that they damage their oesophagus and vomit blood.
Food is not even a thought or priority. Staying hydrated and alive is all that matters. After suffering for almost three weeks of unbearable nausea, at 10 weeks pregnant, I had a bout of nonstop vomiting. A panicked call to my GP and a trip to A&E led to a diagnosis of severe hyperemesis gravidarum. For me, HG was constant nausea and episodes of vomiting that would not stop until every last bit of food and water was out of my body. When that was done, any saliva I might have swallowed along with some stomach acid came up.
HG sufferers often have certain things that trigger their sickness. It's a funny stereotype that pregnant women have a heightened sense of smell, but my experience was no joke. From week seven of my pregnancy until the day I gave birth, my husband was forced to sleep in another room. I was unable to be around people because the smell of them made my stomach turn. I struggled to brush my teeth and bathe, as the taste of toothpaste and smell of shampoo would set me off. The only way I could function was through a cocktail of five different anti-emetic medicines, usually prescribed to chemotherapy patients, taken multiple times a day, to suppress the urge to vomit.
The medication did nothing for my nausea, so I was signed off work for almost half of my pregnancy, with eating and drinking remaining a daily battle. The only thing I could stomach was salt and vinegar crisps, and lemonade for weeks on end. I lost four and a half kilos in four weeks.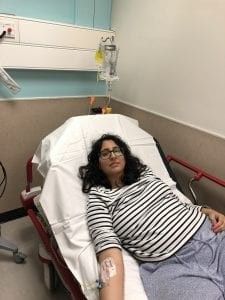 What almost all HG sufferers have in common is that we will be hospitalised at least once for dehydration. We will be hooked up to drips for hours, if not days on end, to replace fluids that we have lost. And this is how many of us spend most of our pregnancy. I had four hospital stays across my pregnancy – I've heard of others who have spent their entire pregnancy on bed rest being fed via a nasogastric tube.
Before getting that far, we have to get family, friends and most importantly, our doctors to believe us. Women suffering from hyperemesis are regularly denied medical care because their GPs don't believe the extent of their suffering. The first doctor I saw said, "some women just can't cope as well as others". When that hurdle is finally jumped, then getting access to the right medication becomes a battle. A reluctance that is the legacy of the thalidomide scandal. But starting treatment early is proven to mitigate the worst of the sickness and nausea.
The symptoms of HG can end or ease part way through pregnancy, but for many it continues until the moment they give birth, and for an unlucky few, even beyond.
The toll it can take can be insufferable and around 10-20 per cent of women with HG will go on to have terminations as a direct result of the illness. The extremity of the sickness, impact on your daily life and ability to work along with a lack of understanding, support and help from loved ones and/or medical professionals, can be a hard burden to bear alone.
Just as critical as the physiological symptoms is the deep psychological impact. A recent study by the British Medical Journal found that women with HG were significantly more likely to suffer from perinatal depression than those with non-HG pregnancies. Despite this there is no mental health support offered as part of their treatment. While pregnant I lived in constant terror of the next time I would be sick, get admitted to hospital, be alone and be around people in general. My biggest fear was unintentionally harming my baby because I was so ill. A doctor suggested I was suffering from anxiety after my final week-long stay in hospital, but he didn't refer me for any mental health support.
It took me 10 months after giving birth to recognise that I wasn't coping with the impact of HG. I was eventually diagnosed with anxiety, PTSD and depression. I had lived in fear for almost two years and it was crippling. My therapist explained to me, "you spent 40 weeks surviving your pregnancy each day at a time. You spent your first year as a mum surviving each day at a time. But there is no battle to survive now. You can live."
I survived HG. It is not mere morning sickness. It is a daily battle of life and death. A war that rages within our bodies that we have no control over. Other women will, unfortunately, go through this battle too and they must have access to the basic requirements for survival that HG sufferers are continually denied – being believed, quick access to medication and mental health support.
Jyoti Gadhvi is a London-based hyperemesis gravidarum survivor and co-host of The Native Immigrants podcast.
Visit Twitter: @NativeImigrants and Instagram: @thenativeimmigrantspodcast and for further information on HG, visit Pregnancy Sickness Support: www.pregnancysicknesssupport.org.uk