Cinnamon oil
Cinnamon essential oil can help boost brain activity. Sniffing this essential oil can improve blood circulation as well. It is a key ingredient in aromatherapy to get rid of airborne bacteria. The antiseptic property of cinnamon not only cures wounds but also prevents fatal septics. It is full of volatile compounds that help in detoxifying the body. Above all, it can remove negative thoughts thereby killing depression.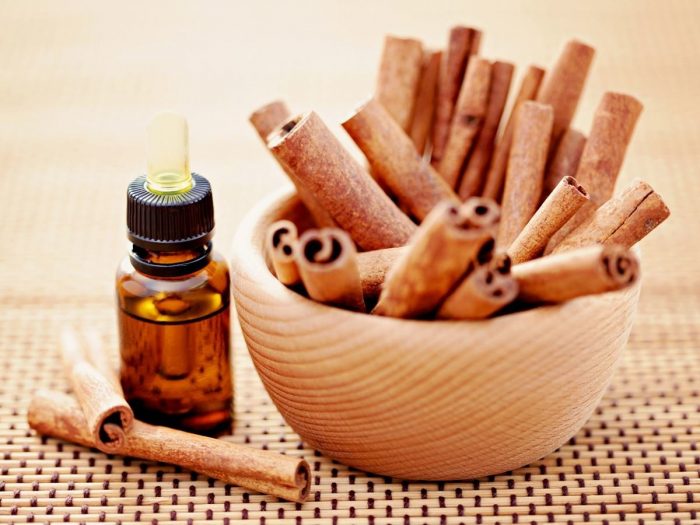 Lemongrass oil
The lemongrass essential oil is used as aromatherapy to relieve muscle pain, externally to kill bacteria, ward off insects, and reduce body aches, and internally to help your digestive system. It is also known to have anti-fungal, insecticidal, antiseptic, and anti-inflammatory properties. Lemongrass oil can strengthen your hair follicles, so if you are struggling with hair loss or an itchy and irritated scalp this oil can help you to get rid of it.
Lavender oil
The benefits of lavender were actually discovered over 2,500 years ago. Because of its powerful antioxidant, antimicrobial, sedative, calming and anti-depressive properties, lavender oil benefits abound and it's been used both cosmetically and therapeutically for centuries. It improves brain function, improves sleep, restores skin complexion and slows ageing and with powerful antioxidants, it relieves pain and alleviates headaches. It also helps to heal burns and wounds.
Tea tree oil
Tea tree, also known as melaleuca, is well-known for its powerful antiseptic properties and ability to treat wounds. Some of the many traditional uses for tea tree include healing acne, bacterial infections, chickenpox, cold sores, congestion and respiratory tract infections, earaches, fungal infections (especially Candida, jock itch, athlete's foot and toenail fungus), halitosis (bad breath), head lice, MRSA, psoriasis, dry cuticles, itchy insect bites, sores and sunburns and boils from staph infections.
Lemon oil
Lemon oil is stimulating while it is calming. It has anti-infection, astringent, detoxifying, antiseptic, disinfectant, and antifungal properties.  Lemon oil works in many areas of your life, from household cleaning to supporting brain energy and freshening the air.  As an extra bonus, lemon oil adds flavour to your water or your favourite foods, all while helping you get rid of bacteria.